These vegan dan dan noodles will make your tastebuds explode with happiness. I recreated this recipe to my liking and yes, it is a bit americanized and in no way trying to replicate the exact recipe. However, this recipe was heavily inspired by Omnivores Cookbook's authentic dan dan noodle recipe.
What are Vegan Dan Dan Noodles?
One of the most popular Sichuan street foods that are served with a savory, spicy, creamy sauce and chili oil, topped off with crushed peanuts and ground pork. The flavor is overall savory, smoky, numbing and spicy! The Sichuan peppercorns play a big role in the dish.

This blog post will make it super easy for you to re-create this recipe to YOUR liking. Make sure that you read the tips and substitute options in order to get the best vegan dan dan noodles!
What is Sichuan Peppercorn?
These peppercorns are known for the slight numbing sensation they leave on the tongue. You'll want to use ground
Sichuan peppercorn
for this recipe, trust me you do not want to bite into a full peppercorn! I have been there and it was strong and extremely numbing haha.
If you are hesitant to use this in your dan dan noodle recipe I recommend leaving it out or using half of the amount listed below. This is one of the ingredients that makes this dish so special so try using a small amount.
4 Components of Vegan Dan Dan Noodles:
Grind your Sichuan peppers if they aren't already ground, add to a heat resistant bowl along with red pepper flakes, anise and then add boiling hot oil, that is it! This is where I added the Sichuan peppers to because it is easier to control the amount when adding them to the noodles.
This is where you can adjust the amount of Sichuan peppercorns you want to use. You can also choose to add the chili oil at the very end instead of mixing it in with the sauce — that way you can control it and avoid adding too much!
The star of the show is

Chinese sesame paste

. This is not the same as tahini, it is mellow and sweet unlike the zesty and piquant flavor of tahini. Click here to learn more about Chinese sesame paste.
Substitutes for Chinese sesame paste:
I personally LOVE using cashew butter for this recipe. I call it the cashew spin – cashew butter instead of sesame paste and crushed cashews as a topping instead of peanuts! TRY IT!

You can also substitute with peanut butter.
I highly recommend using

Impossible Beef

for this recipe but you can also try Beyond. It's easier to achieve a pork-like taste with Impossible though. This part of the recipe is super simple and I don't recommend substituting the other ingredients for best results.
You can honestly use any noodle that your heart desires. I am currently obsessed with Trader Joe's new vegan thai noodles. They go so well with this recipe, they are not too thin or too thick and the texture is just perfection.

I personally like to use onions, carrots and spinach to keep it simple but you can feel free to add any veggies you'd like!
Tips and Tricks:
These noodles taste delicious hot or cold so feel free to eat them chilled on a hot summer day. If serving hot, best served fresh for best texture but highly encouraged meal prep for 2-3 days since the sauce marinades the noodles and veggies and OMG..

Lasts up to 5 days in the refrigerator, however, I doubt they will last that long.
Make this for your significant other and 99% chance they will propose, even if you're already married!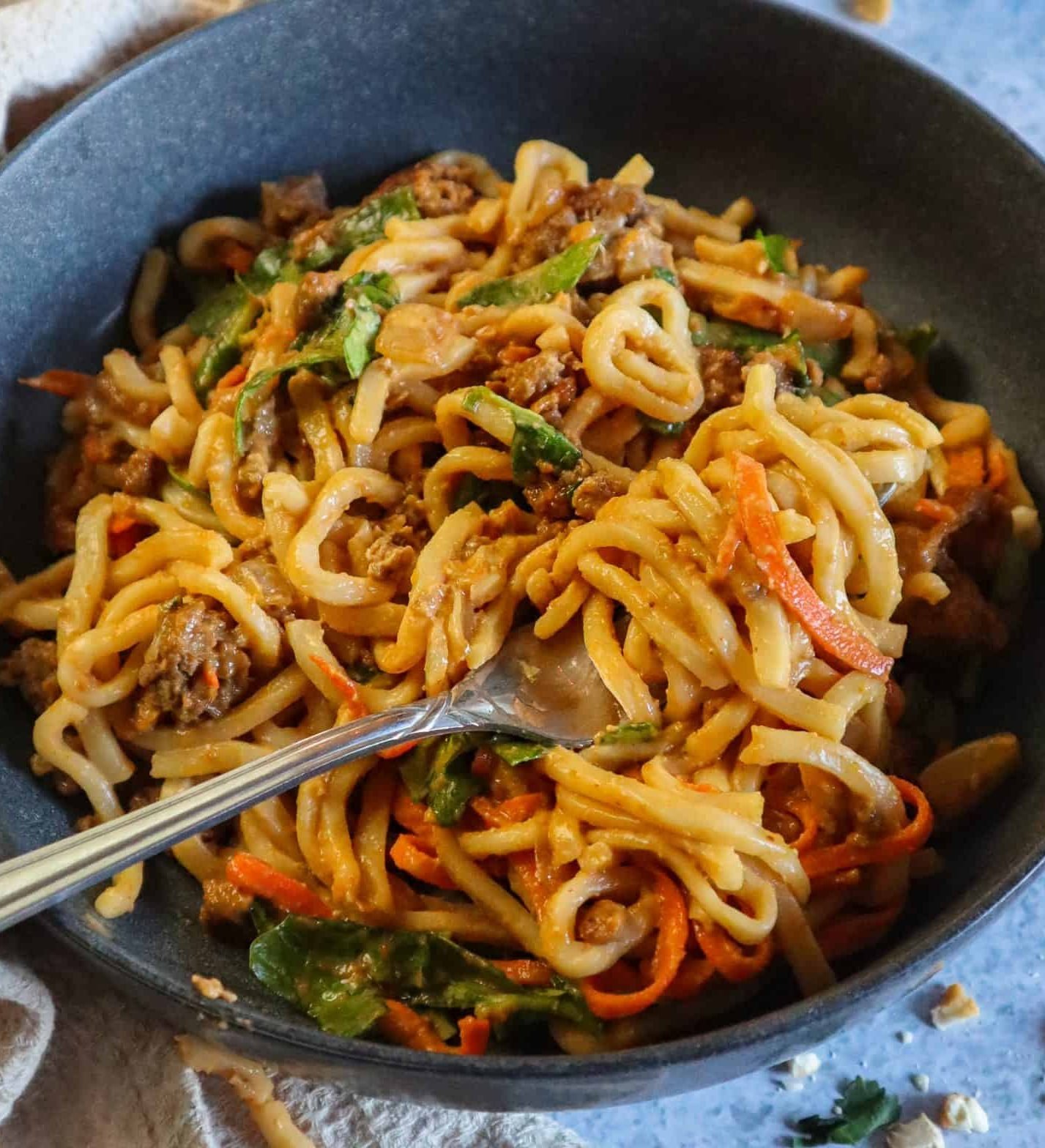 Other Vegan Recipes:
Print
Dan Dan Noodles
---
Author:

Total Time:

30

Diet:

Vegan
Description
Flavorful, Easy, Vegan Dan Dan Noodles! These saucy, savory, noodles are perfect for a weeknight dinner or a family dinner. Protein-packed, well-balanced and rich in fiber!
---
1 tbsp Sichuan Peppercorns, ground

3/4 cup Oil, I used sesame oil

1/4 cup crushed red pepper flakes
1/3- 1/2 cup Chinese sesame paste* or natural cashew/peanut butter

1/4 cup of your chili oil (from above)

2 cloves garlic, minced or crushed

1/2 cup hot cooking water from the noodles
1/2 pack of Impossible Beef
1/2 cup crushed peanuts or cashews
---
Instructions
Grind your Sichuan peppers if they aren't already ground.

Add to a heat resistant bowl along with red pepper flakes and anise.

Heat sesame oil in a small pot. Boil for 30 seconds and then add to bowl with chili pepper flakes, Sichuan peppers and anise.
Add all ingredients to a heat resistant bowl. Use a whisk or fork to create a sauce.

Add 1/2 cup boiling hot water from your noodles.

Whisk once more after water has been added and set aside.
Cook noodles as instructed. Take 1/2 cup boiling hot water to add to sauce ingredients.

Chop spinach and spiraling or shred carrots. Set aside.

Crush peanuts or cashews and set aside.
Turn a pan on medium-high heat and add sesame oil and onions. Cook onions for 5 minutes.

Add garlic, ginger, soy sauce and coconut sugar. Let is boil for a few seconds and then add impossible beef or your choice of vegan meat.

Cook for 15 minutes or until golden brown and slightly crispy.
Add cooked noodles to a large pot along with sauce, veggies and vegan ground meat.

Heat for 5-10 minutes until heated thoroughly. Be careful to not let it dry out. If heated for more than 10 minutes it can dry out!

Tops with crushed peanuts/cashews, cilantro and more chili oil if you dare…and enjoy!
Prep Time:

20

Cook Time:

10

Category:

mains

Method:

Stove

Cuisine:

Asian
Keywords: vegan dan dan noodles, vegan noodles, vegan asian recipes, vegan noodle dish