Enjoy this delicious round-up of recipes to help you create your own vegan Thanksgiving spread! I gathered some of the best vegan thanksgiving recipes from some of the best vegan bloggers for you to pick from. These recipes include main dishes, savory dishes, sides, sauces, and desserts (of course). You'll have plenty to pick from!
Click on each title to get to the recipe. Each recipe was created by a different blogger so make sure to checkout each of their blogs for more vegan thanksgiving recipes (or any other recipe!). I hope you get to make as many of these as possible, they are some of my personal favorites 🙂
Every thanksgiving spread needs pasta, right? How about some giant pasta shells get stuffed in a cheesy pumpkin filling, topped with a creamy white sauce, and then baked in the oven. It's the epitome of comfort food for cold weather and pumpkin season! The ultimate fall comfort food, these vegan Pumpkin Ricotta Stuffed shells are cheesy, creamy, chewy, and garlicky. Made with a homemade vegan ricotta spread, pumpkin, and the best garlic béchamel sauce, you'll never put your fork down!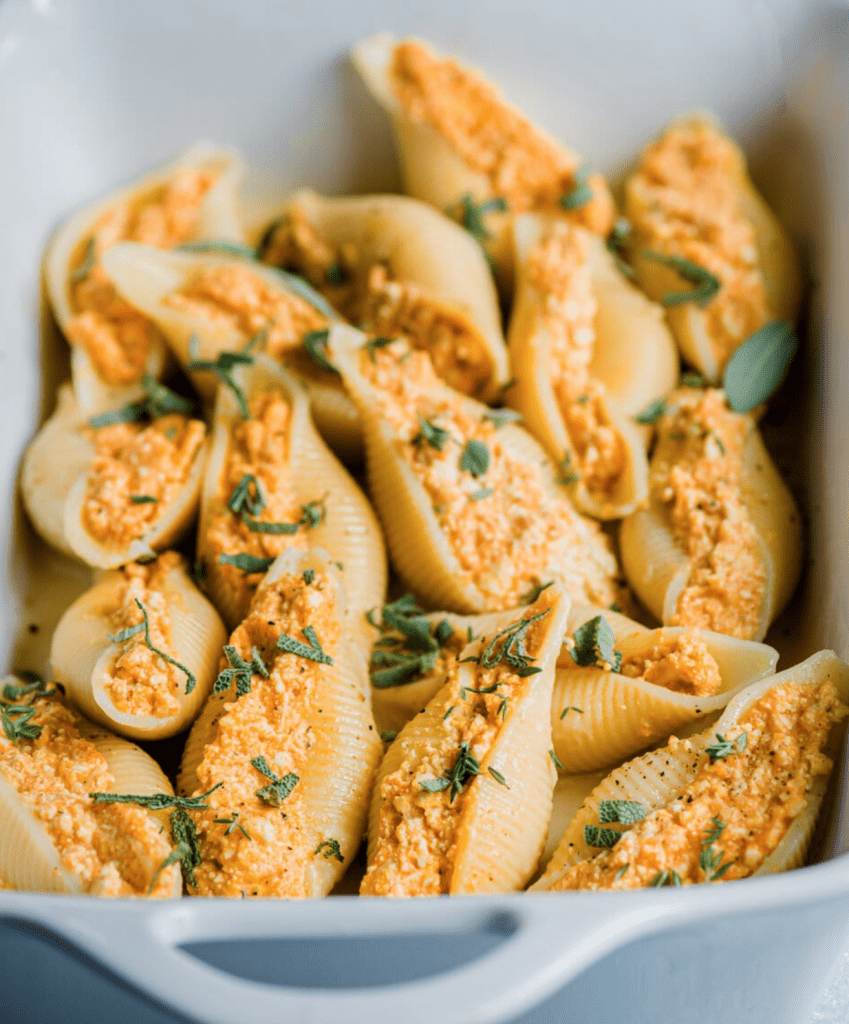 The main entree for a vegan Thanksgiving! I've got your back for the next special occasion/celebration/holiday. Surprise any meat lover with this delicious vegan roast! This roast is protein-packed, moist, savory and surprisingly "meaty". I know seitan recipes can seem a bit intimidating but I promise this one is super duper easy. The prep work and actual labor only takes about 25 minutes. You also probably already have most of these ingredients in your pantry!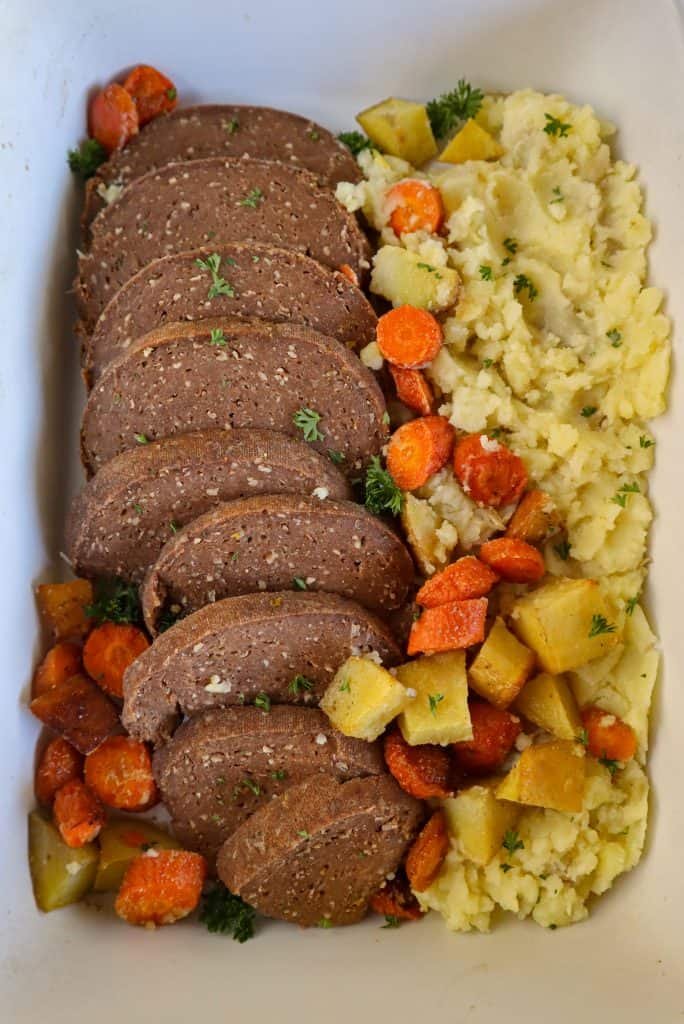 Jackie of Vegan Yack Attack loves thanksgiving side dishes! Yes, stuffing is one of her favorites. She had this recipe idea in the back of her mind for ages. She wanted to make a gluten-free stuffing that didn't involve expensive breads, but that had a better texture than quinoa stuffing. Millet stuffing it is! The texture for this dish is incredible but you'll have to try it yourself.
Liv is not a salad person. However, like most people, she CAN be persuaded to enjoy salad when its really really good. And this one, is REALLY really good. It's so fall! It has squash, dried cranberries and a dressing that tastes like apple crisp. The dressing is sweet & spiced with ginger and cinnamon, and a tad tangy to balance it all out. The squash is sweet, cranberries are tart, and "chicken" is crispy and golden. Each bite is a delight!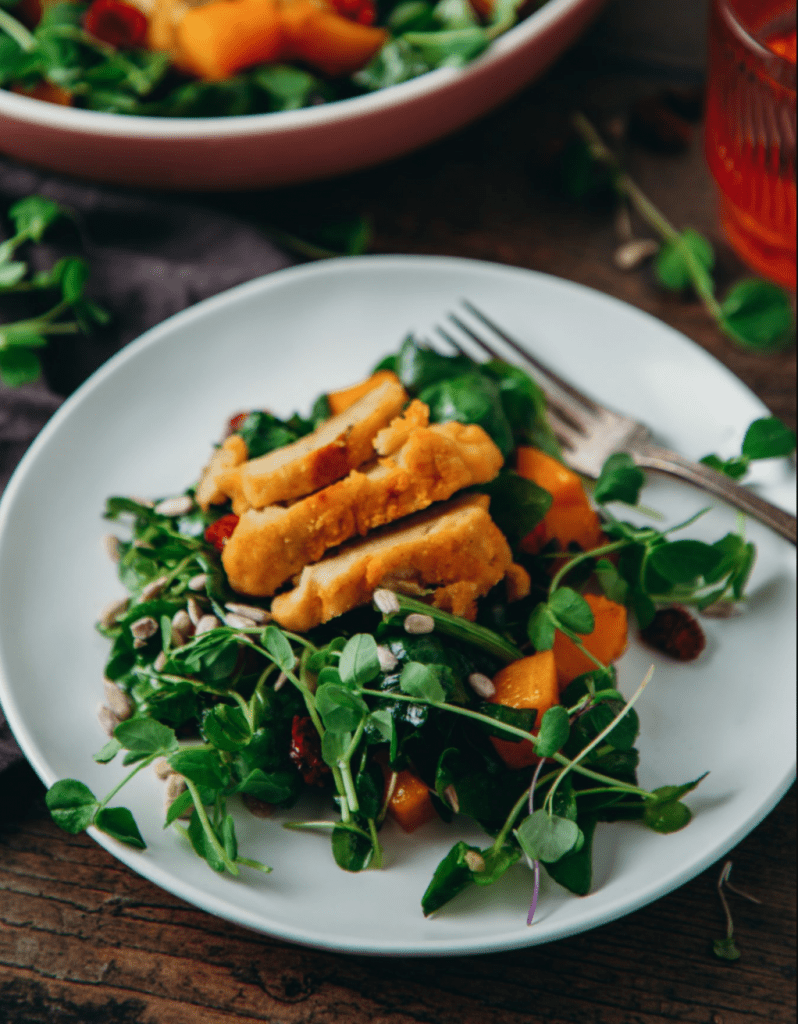 For the past 13 years, Toni from Plant Based on a Budget has been hosting an annual vegan Friendsgiving potluck the weekend after Thanksgiving. This year, she perfected the famous Green Bean Casserole – vegan of course! She wanted it to be a combination of down-right-tasty, but also a recipe that doesn't require hours in the kitchen. She found all her ingredients at Sprouts, including the fried onions– which she thought she was going to have to make from scratch.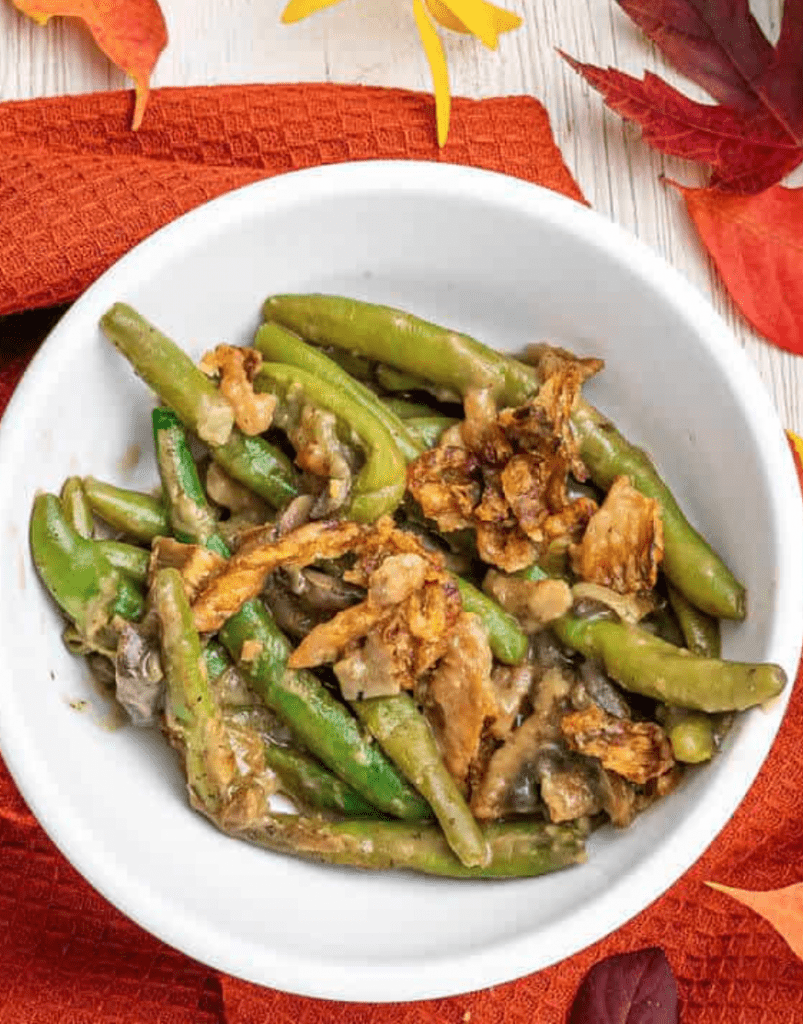 This is the traditional gravy flavor I remember falling in love with from my pre-vegan days – so if you're looking for that creamy, smooth, umami filled traditional gravy – this is for you! Also if you're not a fan of mushrooms or mushroom gravies, you'll for sure love this one. It still has tons of flavor, making it perfect for pairing with vegan mashed potatoes. Only 5 minutes of prep time and only 8 ingredients – it's perfect for your holiday table. You'll want to pour it on everything!
Sophia of Veggies Don't Bite was never a huge fan of sweet potato casserole for a Thanksgiving dish. The overly sweet flavors, without the balance of a salty finish just seemed off to her. Which is why she created her own version that she can actually enjoy! This healthy sweet potato casserole is so easy to make, vegan and gluten-free. It's the perfect side dish for the next holiday dinner!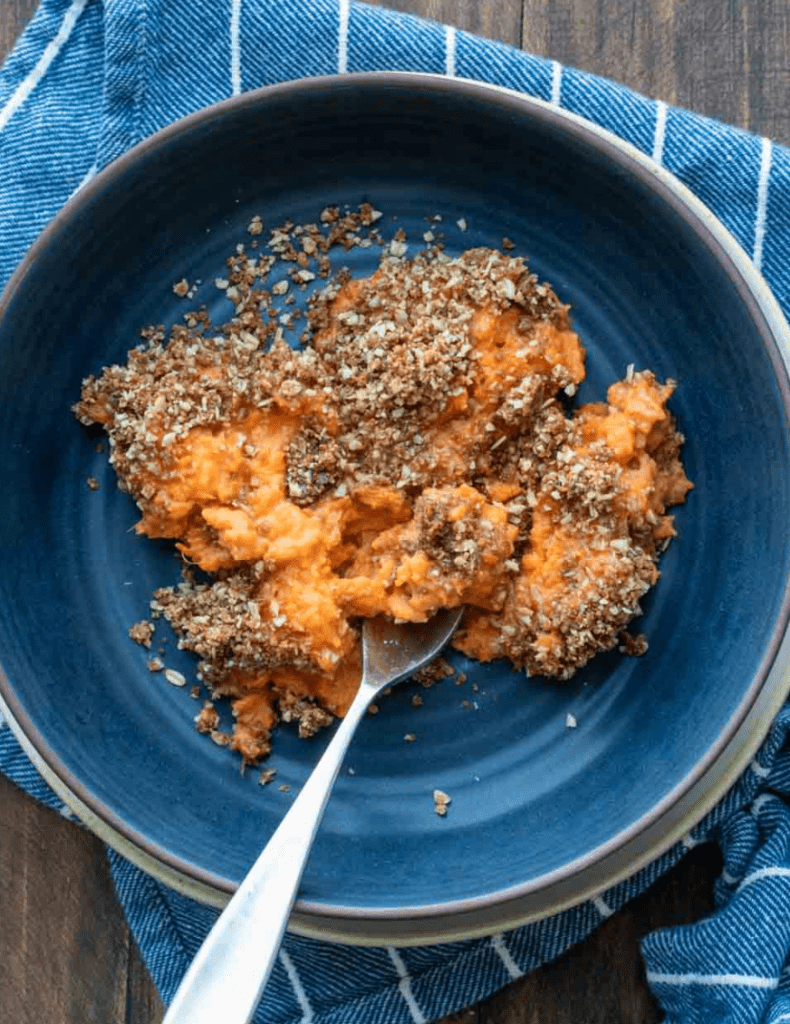 If you're a fan of cornbread, you're going to love Michelle's vegan cornbread muffins! They're insanely easy to make—we're talkin' just a few minutes of active work—and are very budget friendly. They store beautifully in the freezer so they're also great for weekend batch cooking and meal prep. And did we mention they're absolutely delicious? They've been tested in many kitchens with 5-star reviews across the board.
Easy, ten-ingredient eggless pumpkin pie recipe that tastes like autumn.This vegan pumpkin pie is perfect for any occasion especially the holiday season! Growing up I didn't even know that pumpkin pie had eggs in it! Did you? This vegan pumpkin pie without eggs is simple and delicious and can be made with ingredients you probably already have on hand. Woohoo! Talk about convenience!
I had to add a delicious apple dessert to the list! This vegan apple galette is the best way to celebrate the fall season! It is filled with sweet, cinnamon-coated apples and baked to perfection. The best part is that it's made with wholesome ingredients, it's high in fiber, protein, and 100% gluten-free!