Start your day off strong with a yummy plant-based protein-packed shake! With a combination of plant-based proteins, fiber-rich fruits, and a touch of sweetness, it's a nutritious, satisfying, and, of course, yummy breakfast or snack option.
This delicious smoothie is packed with macronutrients and micronutrients. Check out the ingredients below along with the nutrition highlight of each one.
Ingredients:
Naked Shake PB Blueberry – ~28 grams of protein
unsweetened almond milk – calcium & vitamin E
frozen strawberries – vitamin C & antioxidants
cacao nibs – iron & magnesium
chia seeds – omega 3 fatty acids & fiber
Blend all the ingredients together until smooth. Serves 1.
Protein: ~28 grams.
Now let's dive into some key information about one of the main ingredients in the protein shake – pea protein! You might be shocked to learn that it's just as delicious and beneficial as other protein powders like whey.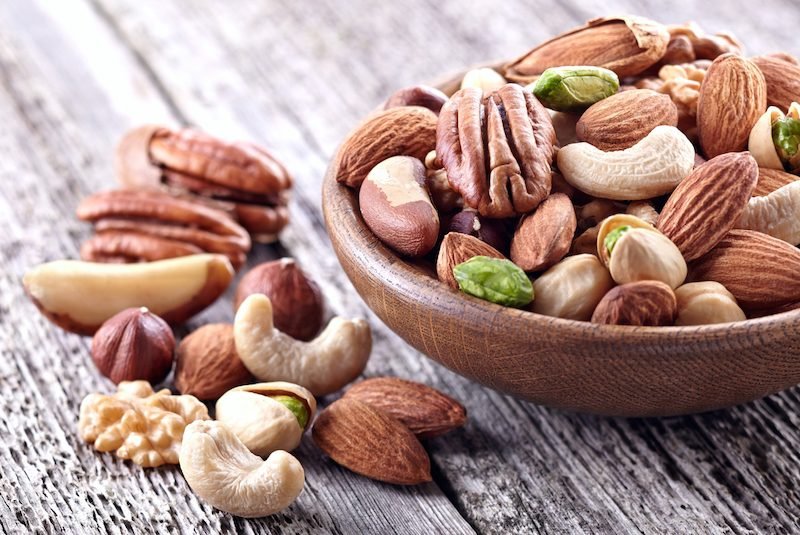 What is Pea Protein?
Pea protein is going viral in the plant-based world for a good reason – it's made from yellow split peas, not green ones, as some may assume. It's a popular choice in many plant-based protein products due to its high protein content.
Not only is it a great source of protein, but it is also loaded with plenty of essential amino acids, which are the building blocks of muscle. It's also easy to digest, so you don't have to worry about feeling uncomfortable or bloated after drinking this smoothie.
Eating foods that are high in pea protein can be great for your health! It can lower your chances of getting heart disease and diabetes and may even protect you from certain types of cancer.
Plus, pea protein is usually safe for people with allergies. It also has other benefits, like reducing inflammation, lowering cholesterol, and fighting bacteria. So next time you're looking for a healthy snack, try something with pea protein(1)!
Pea Protein vs. Whey Protein
If you spend time in the gym or have searched for higher protein options, you've read about whey protein. It has been a go-to for those looking to build muscle and up their protein intake. It is a fantastic animal-based protein option!
But whey protein isn't the answer for everyone, especially if you are looking for a plant-based option.
Pea protein is a great option because it boasts an amino acid profile that is comparable, and in some aspects superior, to whey. The essential amino acids in pea protein can also support muscle growth, recovery, and overall health.
Even studies like this small one done while following a high-intensity functional training program for eight weeks showed whey and pea proteins have similar effects on strength, performance, and body composition(2)!
One thing worth knowing about if you choose pea protein is that it is not technically a "complete" protein. This is because it's a bit low in methionine, which is one of the nine essential amino acids. But don't let this worry you – there are easy solutions for this!
How to Complete Pea Protein
To compensate for the low methionine content in pea protein, you can supplement it with other plant-based foods rich in this essential amino acid. Foods that you could easily add to your diet for an extra methionine boost are Brazil nuts, seeds like sesame and sunflower, or grains like oats and rice, which are great sources.
However, don't stress too much about hitting the perfect balance in every meal. If you make sure to eat a variety of plant-based proteins during your day, you're likely to get all the essential amino acids your body needs. Our shake is a good start!
The key takeaway? This yummy high-protein plant PB shake, rich in pea protein, fruits, seeds, and other goodies, is a great way to kick-start your day or replenish your body post-workout. It delivers essential amino acids, with the minor exception of methionine, which you can easily get from other food sources throughout your day. Shake up your routine with this delicious, nutritious, and fully plant-powered drink!
Print
High Protein Plant PB Shake
---
Author:

Total Time:

5 minutes

Yield:

1

1

x

Diet:

Vegan
1

serving Naked Shake PB Blueberry

1

–

2

cups

of unsweetened almond milk

1

cup

frozen strawberries

1 tablespoon

cacao nibs

1 tablespoon

chia seeds

1 teaspoon

agave nectar (optional)
---
Instructions
Blend all the ingredients together until smooth.
Prep Time:

5

Category:

Smoothies

Method:

No-cook
Keywords: plant based smoothie, vegan smoothie, plant-based protein