Day of the Dead food (el Dia de los Muertos) is made during a Mexican holiday to honor and remember loved ones who passed away. Each year from October 31 – November 2 we welcome back the souls of deceased relatives and loved ones for a brief reunion with drinks, food, and celebration.
It is tradition to make an altar with photos of those no longer with us and decorate it with marigolds, candles, and favorite foods that our loved ones enjoyed. Many families cook dishes that their loved ones who passed away enjoyed to help celebrate but there is also traditional food that is made during these days. Food is a big part of this holiday so I am sharing some traditional recipes made during this holiday in the part of Mexico my family is from; Michoacan.
Day of the Dead Food & Recipes
Click on each recipe title to go directly to the recipe.
Calabaza en Tacha (Mexican Candied Pumpkin) is a sweet pumpkin dessert simmered in a sweet piloncillo syrup with hints of cinnamon and vanilla. It is also known as "dulce de calabaza" and it is perfect for those who want to try a Mexican dessert in the fall or to celebrate Dia de Los Muertos. It's an easy recipe and you'll only need 5 main ingredients! You can also make this with sweet potatoes but it is also the perfect way to use pumpkins instead of letting them go bad. Make a treat and reduce food waste all in one.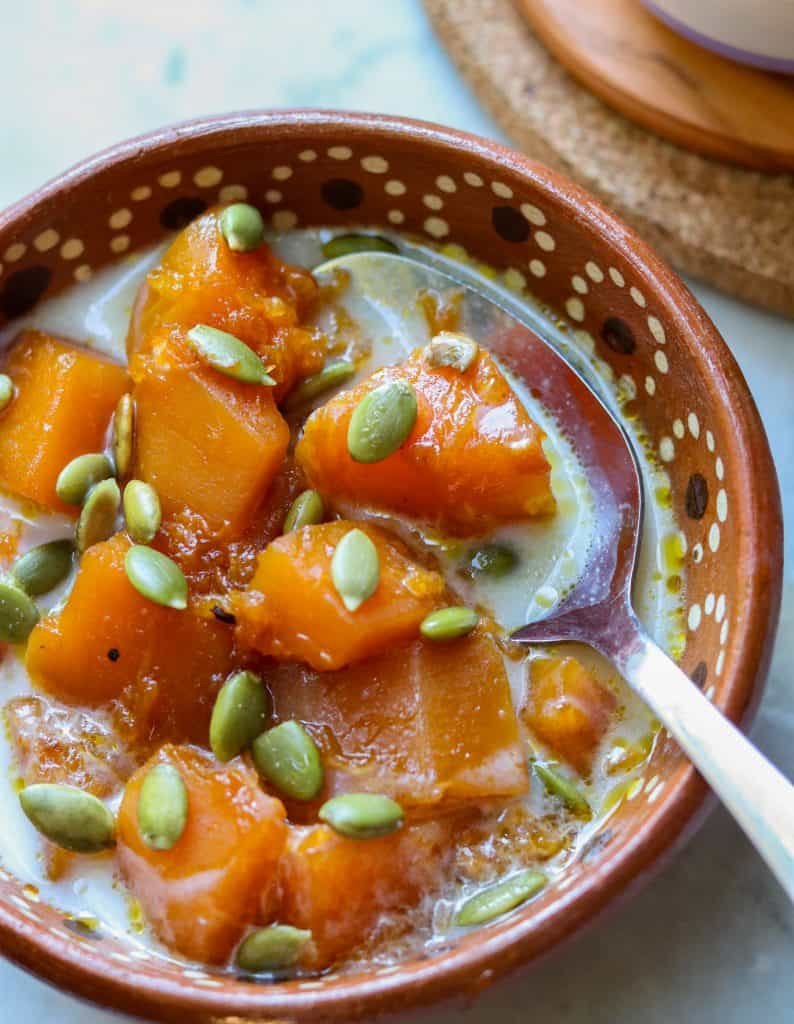 "Pan de Muertos or Day of the Dead bread is an orange blossom-scented bread in the form of a round loaf with knobs decorating the top. It is a very traditional bread that is made for el Dia de los Muertos (Dia de Muertos). This vegan pan de muerto is soft and tender, sweet, and with a hint of orange. It is made using time-honored baking techniques with vegan ingredients!
El Dia de Muertos is a celebration of life and triumph over death, the intermingling of the religious beliefs of the indigenous people of Mexico, and the faith of the Spaniards that conquered them. Purple and orange tissue paper banners line altars decorated with marigold petals, colorful sugar skulls, and a bounty of fruit and vegetables." – Recipe by Dora of Dora's Table.
Corundas are a tamale from Michoacán Mexico that are simple and easy to make. They are eaten with spicy salsa roja, sour cream, and crumbled cotija cheese. Corundas originated from the purepecha tribe in Michoacán Mexico. They are also known as "tamales de ceniza" o "tamales nejos". It is a pre-hispanic tamal that comes in a triangular shape or even a star shape like my tias make it. It is typically wrapped in corn leaves instead of corn husks which makes them different from the typical Mexican tamale that you're used to seeing. Traditional corundas are made for special occasions and are perfect for Day of the Dead food.
An all-time Mexican favorite dish to make during Dia de los Muertos. Enchiladas are like saucy tacos that are baked (or fried) to perfection. The red sauce or enchiladas rojas are the more common type of enchiladas you can find in restaurants. I love both red and green but lately, my favorite has been enchiladas verdes suizas! Savory enchiladas verdes in a creamy, delicious sauce made of tomatillos, peppers, silken tofu, and garlic. Hearty filling of mashed chickpeas, mushrooms, and spices. These enchiladas are soaked in a creamy green salsa made with roasted tomatillos and savory peppers. They are so savory with a hint of tanginess!
Pozole rojo is one of the more comforting Mexican soups out there and is perfect for the fall weather. Hearty and flavorful soup made with hominy, seasoned jackfruit, and a savory chili broth that warms your soul! This authentic Mexican soup is typically made for special events and holidays and lots of people love to make it as Day of the Dead food. I learned to make pozole from my mom. My mom learned how to make it from her mom, and so on. My grandmother was born and raised in Purepero, Michoacán. In this state of Mexico, red pozole is much more popular than green or white pozole. Contrary to popular belief, pozole is super easy to make! It only has 3 main components and very simple ingredients. If you prefer Pozole verde, click here for that recipe.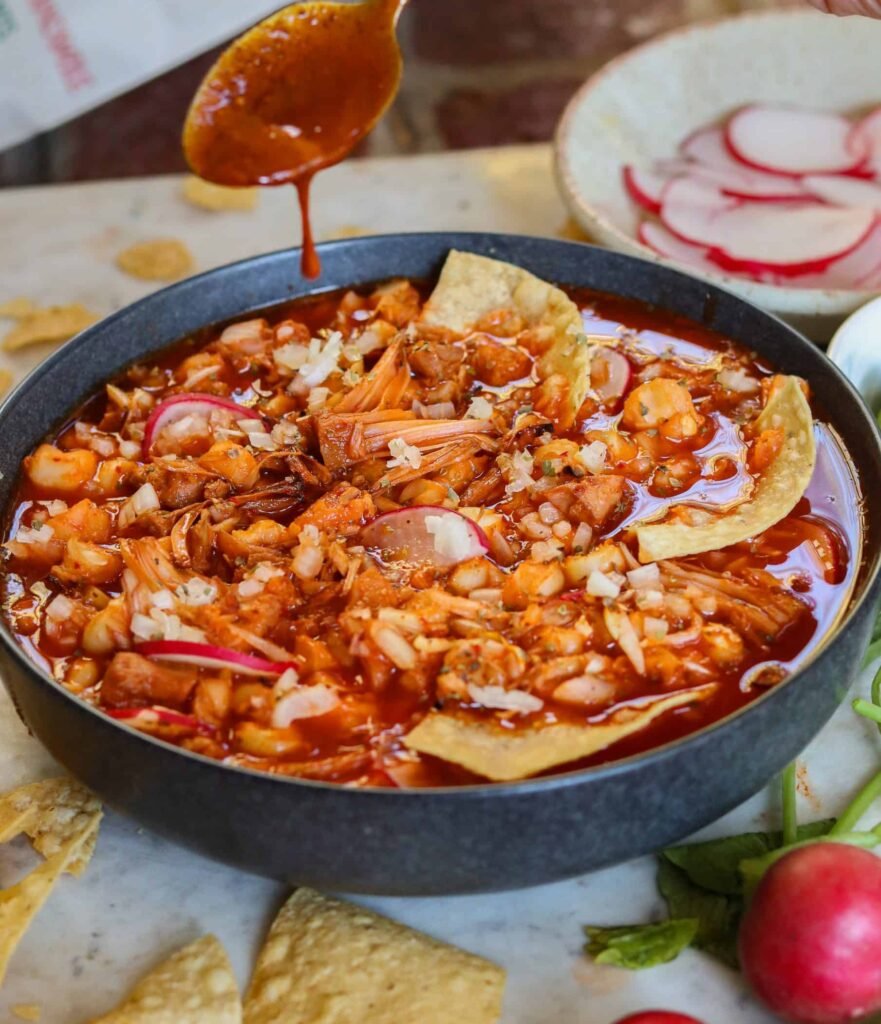 Homemade tortillas are simply the best! No store-bought tortilla can compare to the ultra-soft, heavenly wrap for tacos and quesadillas. Homemade corn tortillas are like gold in a Mexican household! They truly take your meal experience to the next level and are a true comfort food. My grandma used to make them from scratch all the time. My grandpa grew corn and brought it home for my grandma to grind down and make into corn flour to make tortillas so making them is a great way to honor and remember my grandparents. You'll only need 2 simple ingredients to make these yourself. Make sure to read through the tips and suggestions for the best results!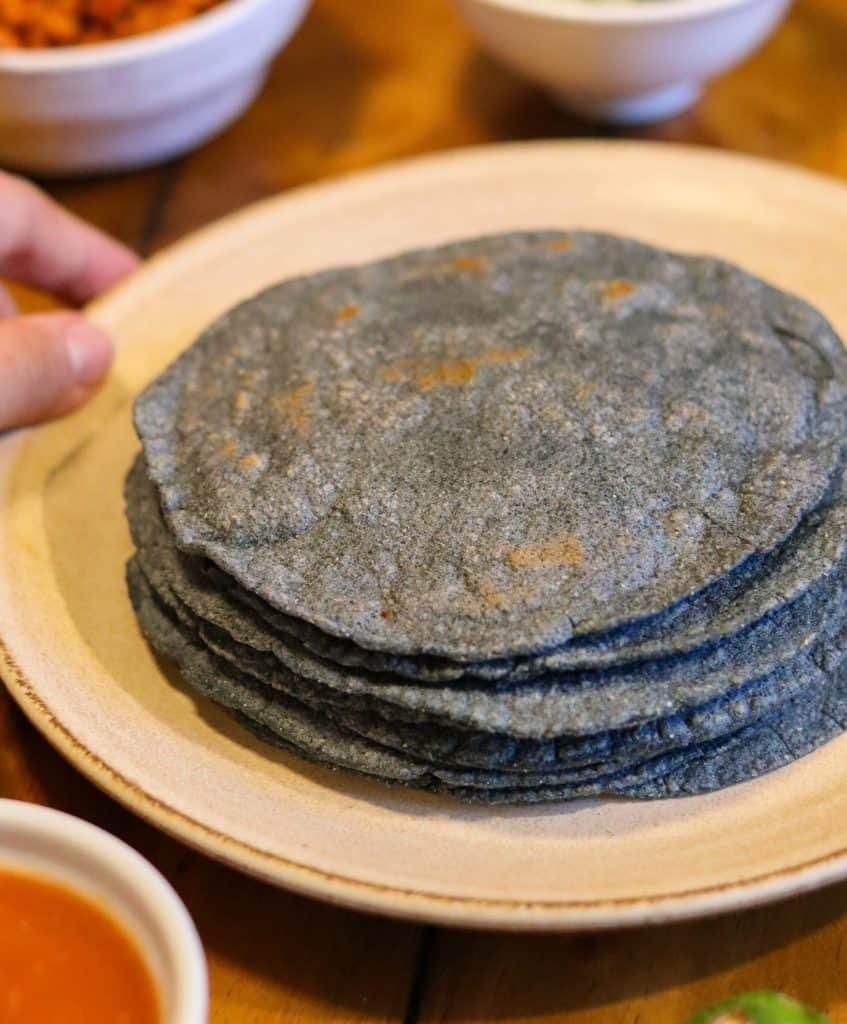 The Chile Relleno is one of the most traditional Mexican recipes dating back to the early 1800s. This dish originated in Puebla, Mexico where a lot of other historic events happened like the battle of Puebla (Cinco de Mayo!). Chiles rellenos are typically filled with cheese, meat, or potatoes. I grew up eating the cotija cheese-stuffed Chile Rellenos, they are my absolute favorite! Some folks think of this dish for special occasions but I grew up eating it regularly, about once a week! I am thrilled to announce that I have created a vegan version that is delicious and lives up to expectations.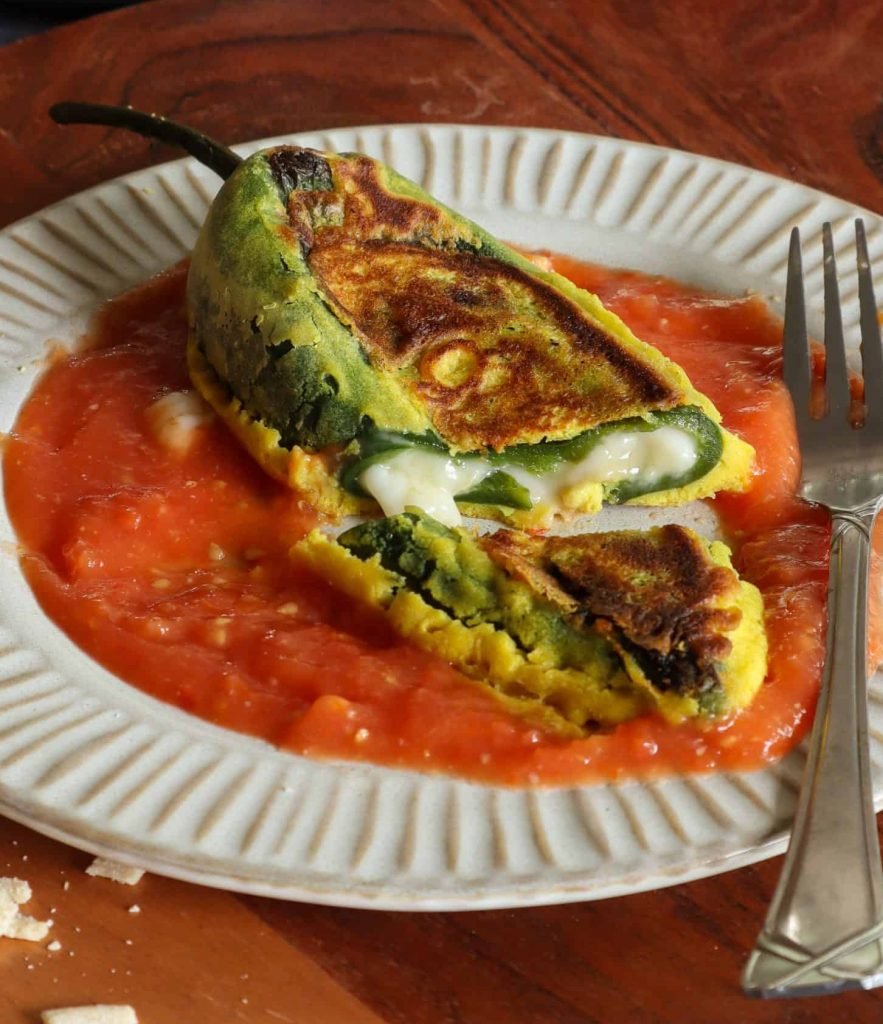 "Enmoladas, also known as enchiladas de mole, feature mole-dipped corn tortillas. They are commonly wrapped around fillings but can also be served plain. They consist of lightly fried corn tortillas that are dipped in warm mole and filled with ingredients like butternut squash and cheese. Top them with crema and toasted sesame seeds for a flavor-packed meal! As you may have gathered, enmoladas (in mole), enchiladas (in chiles), and enfrijoladas all describe a similar style of dish — the main differences lie in the sauce. Mole is a sauce made for special occasions and tends to be a favorite to make around the Day of the Dead. This recipe is made with mole poblano, which comes from the state of Puebla and is one of our absolute favorites!" – recipe by Broke Bank Vegan
Atole, Cafe de Olla, Agua de Horchata
A cozy warm beverage or some refreshing horchata is the perfect pairing to Day of the Dead Food. Atole is a hot beverage thickened with masa harina and sweetened with piloncillo, cinnamon, and plant-based milk. Click here for an easy atole recipe by Hola Jalapeno. Cafe de Olla is also a traditional Mexican coffee that is made with Mexican ground coffee, cinnamon, and raw dark sugar is called "Piloncillo". Cafe de Olla is perfect when paired with Pan de Muerto. Click here for the recipe by Mely from Mexico in My Kitchen. If you prefer a cold refreshing drink, try agua de horchata. This will pair perfectly with enmoladas, enchiladas, chile relleno, pozole, and tacos.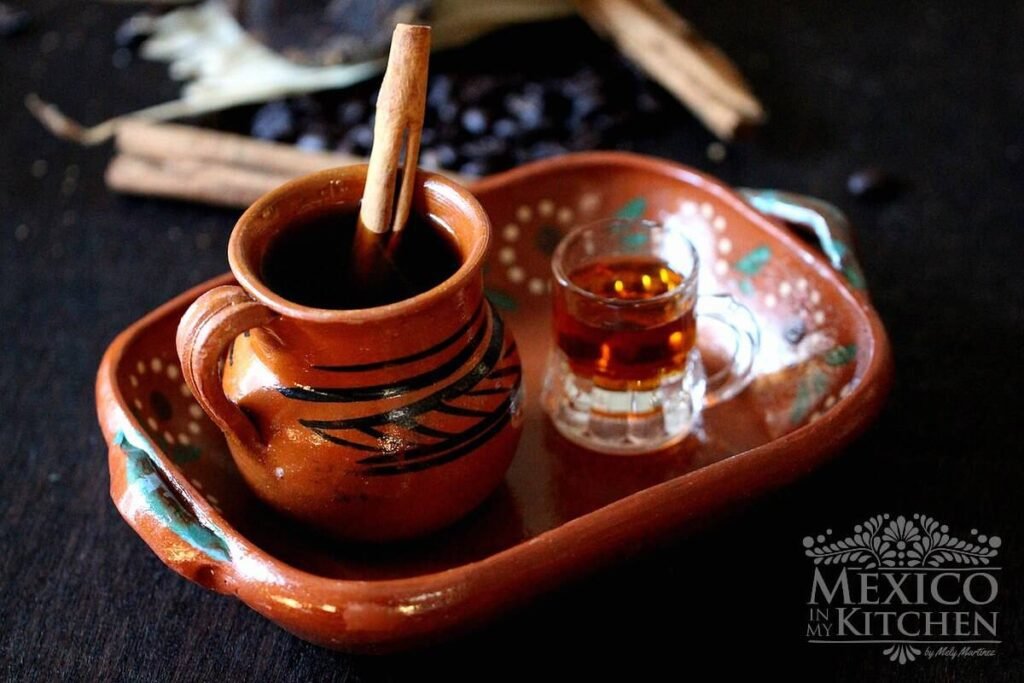 I did not grow up making sugar skills but I know they are a tradition for some people like Dora. "Colorful sugar and chocolate skulls adorn the altars in honor of departed loved ones on The Day of the Dead. The sugar skulls represent the spirits of the departed souls, some of them even have their names written on their foreheads." – recipe by Dora's Table.