10 Easy Mexican Recipes to celebrate Hispanic Heritage Month! Easy, plant-based, nutritious, and delicious. I picked the most authentic recipes that remind me of my family, culture, and roots.
10 Easy Mexican Recipes
Happy Hispanic Heritage Month! This time of the year is about honoring my culture in a way that reminds me of my ancestors. It is also a time to learn more about my Mexican culture, whether it's through exploring music, reading, connecting with family, or cooking. Of course, my favorite way to celebrate is to make delicious vegan Mexican recipes. The lack of animal products in these recipes does not make them any less authentic, anyone that has tried these can describe them as authentic Mexican recipes! I hope you try at least one of these because they are all some of my favorite recipes on the blog 🙂 Click the name of each dish to get directed to the full recipe.
This vegan birria is a saucy, flavorful, and authentic Mexican dish that is popular at weddings and big celebrations. There are multiple meat substitutes to pick from within this recipe; jackfruit, hibiscus flower, mushrooms, seitan, and more.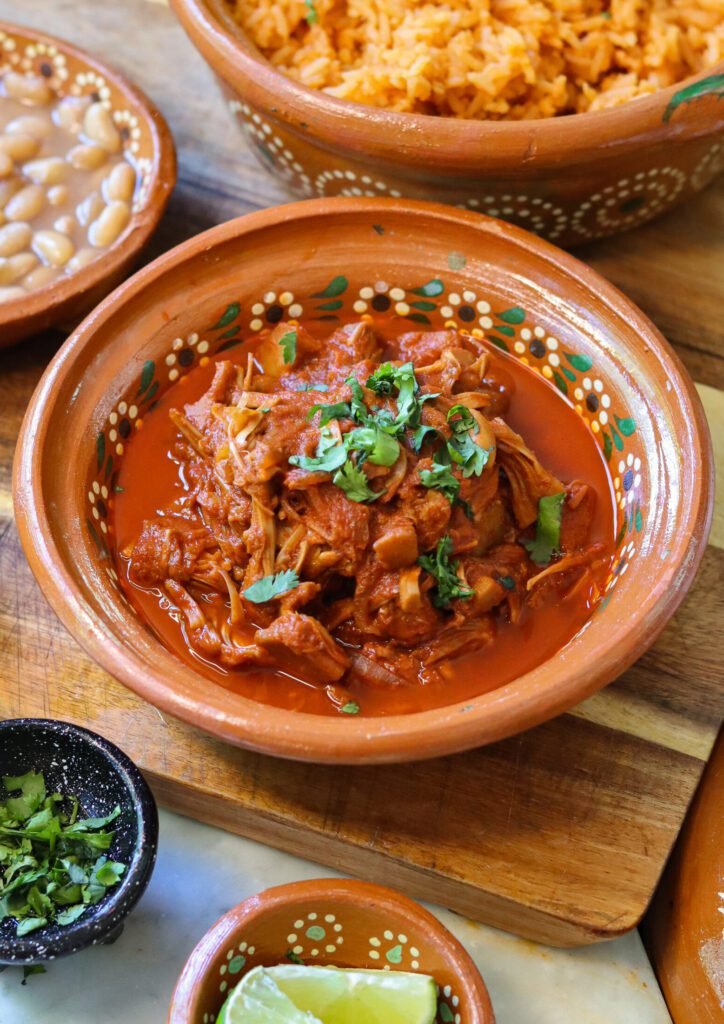 Vegan chilaquiles are the perfect Mexican breakfast or brunch! Made with crispy tortillas, savory tomatillo salsa, vegan egg, and vegan queso fresco. This hearty Mexican breakfast will be so easy to put together that you'll want to make it every week! If salsa verde is not your preference, check out my chilaquiles rojos.
Vegan Menudo is just as comforting as authentic Mexican Menudo soup. It's made with a savory chili broth, two different kinds of mushrooms, and hominy. It's perfect for a cold winter day or as a hangover cure. I have made this dish for my picky parents and they LOVED it and said that they would be making this instead of regular menudo because it is a lot easier to prepare.
Enfrijoladas are corn tortillas soaked in a black bean mixture and topped with queso fresco (fresh cheese), avocado, and cilantro. This dish is authentic, very simple, delicious, and easy to make! I grew up eating enfrijoladas and I'm pretty sure I was eating them everyday at one point! There are different versions but the most authentic is the most simple; made with just beans, broth, onion, pepper, and tortillas. They are so easy, only 5 main ingredients and about 15 minutes of time. They are also super picky eater and kid-friendly!
Huaraches de Nopal are a recreation of the typical Mexican "Huaraches" made from masa harina (corn flour). The nopal replaces the huarache and then it is topped off with refried beans, savory "Pollo (tofu) Asado, avocado, salsa, and cilantro. It's flavorful, authentic, diabetes-friendly, and easy to make! You definitely don't have to replace the masa harina with nopal but it does add extra nutrients and is still authentically Mexican.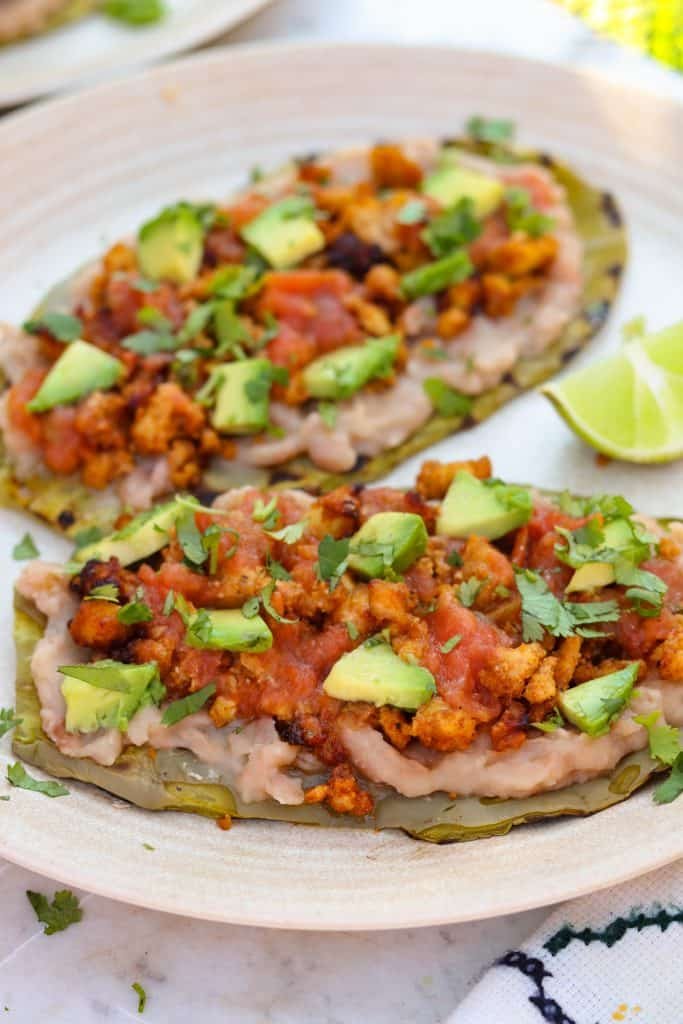 Tetelas are delicious triangle-shaped pockets of corn masa stuffed with beans and cheese. They are easy to make and can be topped with salsa, avocado, queso fresco, and even nopales. Tetelas are originally from the state of Oaxaca Mexico so don't be surprised if some folks from Mexico have never heard of them or tried them. What makes tetelas unique is their shape and that they can be stuffed. Aside from that, there aren't any ingredients that differ from a bean and cheese taco. The experience is definitely worth it though and they are perfect for taking on the go as an easy snack or meal.
A homemade seitan recipe marinated in an authentic al pastor marinade made with guajillo chiles, achiote pepper, pineapple, garlic, and onion. Impress anyone with these tacos, meat-eaters, and everything in between! These vegan al pastor tacos provide all the flavor with none of the heartburn or slump! They are so satisfying and perfect for those wanting to eat less meat or go plant-based. This is also one of the best seitan recipes I've ever tried! It takes a bit longer than most of the other recipes but the steps are simple, easy-to-follow, and well worth it.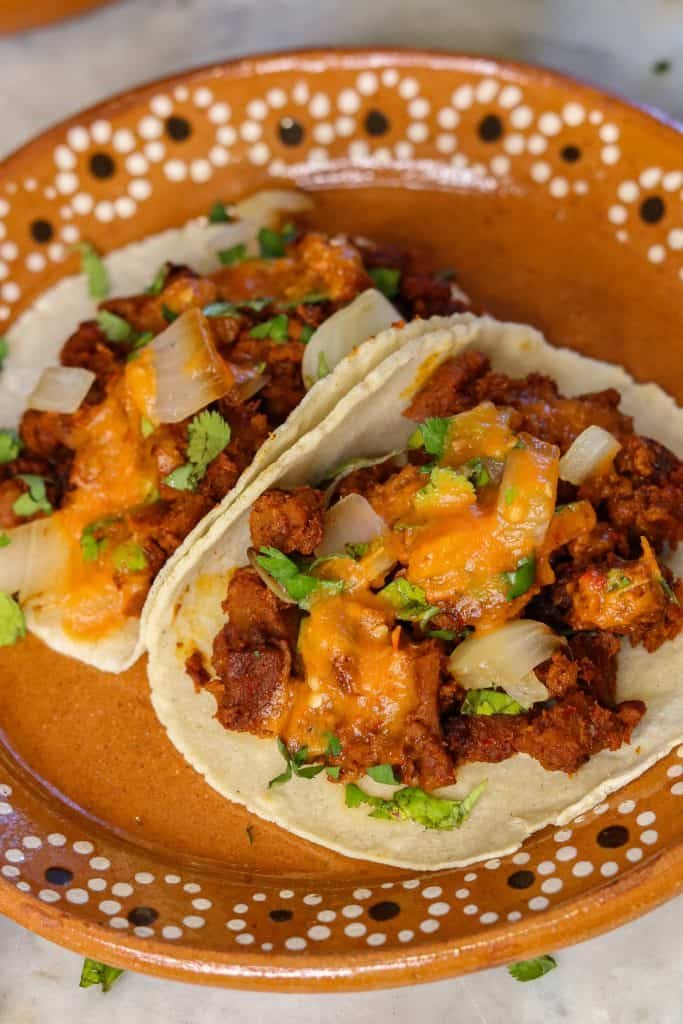 Charro Beans or Frijoles Charros are hearty beans stewed in a flavorful Mexican broth with a spicy kick. This satisfying recipe is a vegan version without the cholesterol but all the flavor. Made with only 8 main ingredients and can be ready in under 20 minutes! Charro beans are a Mexican bean stew recipe that is mainly consumed in northern Mexico and served at parties or alongside carne asadas. It is typically made with pinto beans, bacon, chorizo, and hot dogs/beef franks. It is hearty and flavorful but packed with saturated fats that can spike cholesterol levels. Which is why I made a plant-based version that tastes as good as the real deal!
Vegan ceviche is an authentic, coastal, Mexican dish that is refreshing, light, and super easy to make. Hearts of palm make for a perfect fish replacement and make this dish extra nutritious! Save this recipe for a hot summer day and enjoy with a side of tortilla chips. This Mexican-style vegan ceviche with hearts of palm will leave you wanting more! It tastes delicious on a hot summer day when you're craving a light meal. It is also great for family gatherings, appetizers and picnics.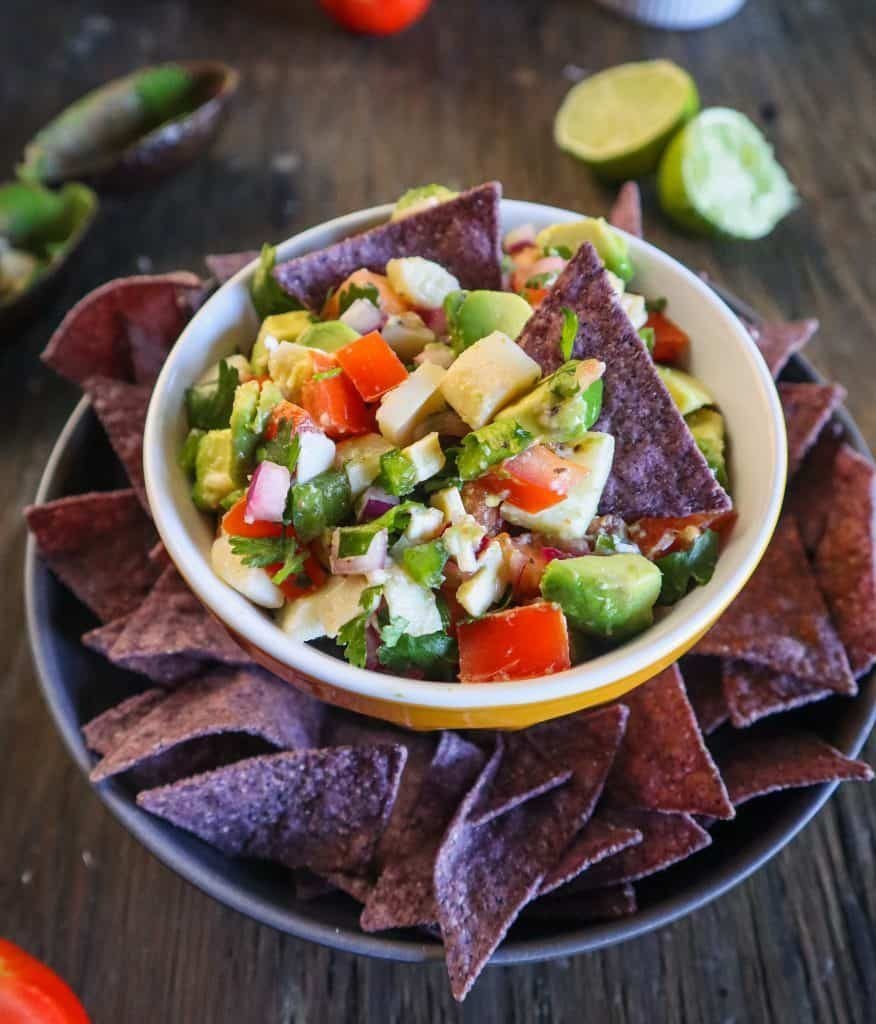 Fideo Recipe or Sopa de Fideo is a simple yet comforting pasta soup that is a staple in every Mexican household. It's a an easy 6-ingredient, short angel hair-style pasta in a light and savory tomato broth. This simple Fideo Recipe/Sopa de Fideo was every Mexican kid's favorite meal! It is super picky-eater friendly, easy to make, affordable, and very delish. You can make an entire pot of fideo soup for about $5.00. Growing up, I had no idea that this simple dish would be so meaningful to me. When I'm having a rough day, I can just take 15 minutes to whip it up and curl up on the couch watching telenovelas and sipping my sopita de fideo.