This vegan birria is a saucy, flavorful, and authentic Mexican dish that is popular at weddings and big celebrations. There are multiple meat substitutes to pick from within this recipe; jackfruit, hibiscus flower, mushrooms, seitan, and more.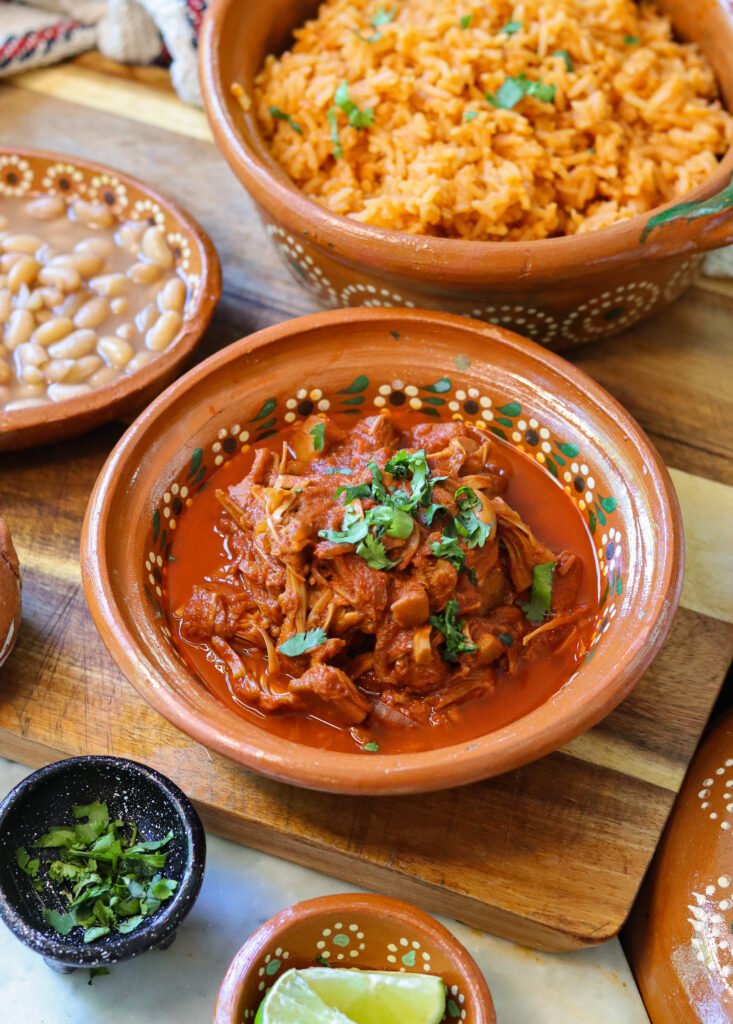 Vegan Birria
Birria is a popular dish from Mexico typically made with beef, goat, or lamb. However, no one should miss out on the comforting taste of birria even if they don't eat meat. The flavor is mostly in the sauce and spices so it was fairly easy to make a vegan version.
This vegan birria recipe is one of my favorites to make with Mexican rice and homemade beans. I call it the Mexican trio. It is extremely satisfying and perfect for anytime of the year. The best part is that you can also make vegan quesabirria tacos with it! Quesabirria tacos are quesadillas with birria inside and lightly fried in chili oil. It is then dipped in a small bowl of birria broth for extra sauciness!
Meat Substitutes:
Hibiscus Flower/Flor de Jamaica
I know what some of your might be thinking..hibiscus flower?! Anna, are you crazy? No, well I may be a bit crazy in other ways but you have to trust me on this one! It is not tart one bit. Hibiscus flower is usually used for teas and sweets but when prepared correctly it can also be a meat substitute. Learn more about how to use hibiscus here.
The apple cider vinegar reduces the tanginess by 99%, it's science. The hibiscus flower is chewy just like beef but if you want a much tender texture I suggest you use jackfruit or King Oyster Mushroom (very close to meat texture too). If using jackfruit or king oyster mushrooms skip steps 1-2 and avoid rinsing when on step 6.
King Oyster Mushroom
This mushroom shreds very well and can replicate the texture of shredded meat. I typically find mine at local Asian groceries or whole foods. They tend to be pricey but I've heard it's easy to grow them at home! This would be an easier option as it requires fewer ingredients and fewer steps than using the hibiscus flower.
Shredded Tofu
If you've never grated tofu, you're missing out! I love grating it to get a "shredded" meat texture. I have a recipe for it in my Vegan Enchiladas recipe. This is definitely my go-to meat alternative for those that say they don't like tofu, just to prove them wrong lol.
Jackfruit
I highly recommend using canned jackfruit in brine. Make sure to rinse well to get all the brine flavor out.
Seitan/Vegan Meats
Shredded seitan also makes for a great meat substitute. I recently tried Juicy Marble's filet mignon steaks and shredded them to make birria. This product is SO close to meat it was a bit scary for us but is a great alternative for those looking for something very close to beef.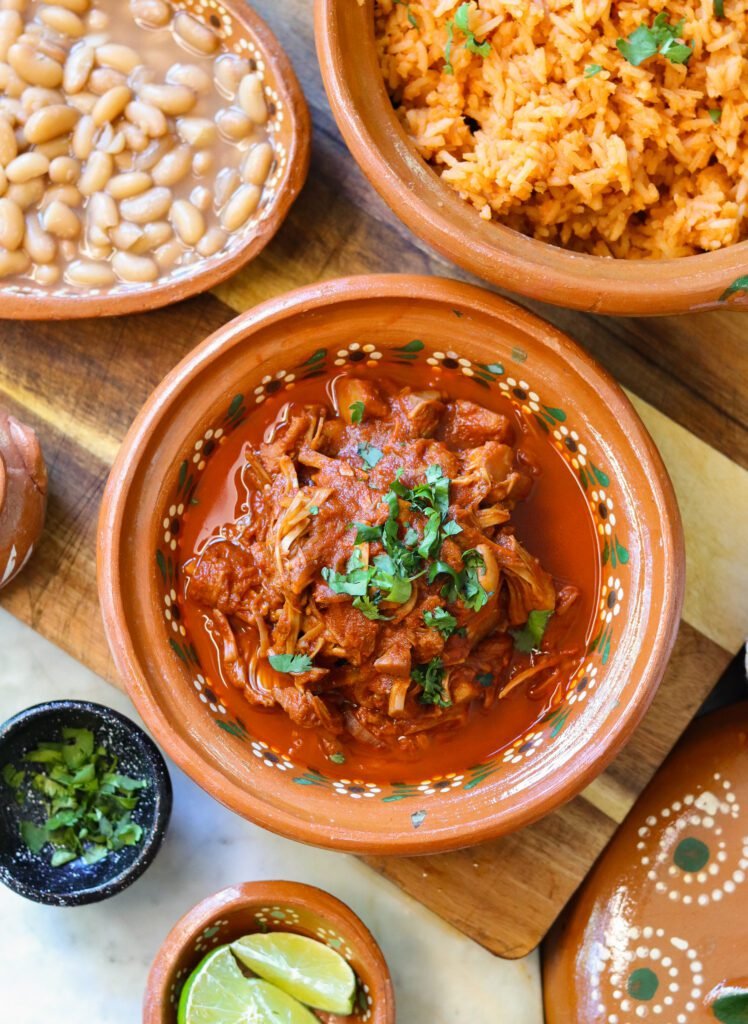 Print
Vegan Birria
---
Author:

Total Time:

40 minutes

Yield:

8

1

x

Diet:

Vegan
Description
This vegan birria is a saucy, flavorful, and authentic Mexican dish that is popular at weddings and big celebrations. There are multiple meat substitutes to pick from within this recipe; jackfruit, hibiscus flower, mushrooms, seitan, and more.
---
Hibiscus option:
2

cups

dried Hibiscus flower (see above for more meat substitutes)

2 1/2 Tbsp

Apple Cider Vinegar
If using King Oyster Mushrooms or Jackfruit:
6

king oyster mushrooms OR 2 large cans of young jackfruit in brine

1 tsp

Garlic Powder

1 tsp

onion powder

2 tbsp

Tamari or Soy Sauce

1 tbsp

Avocado Oil (or any other neutral oil)
Birria sauce/broth
4

–

7

cups

of Water (depending how brothy you want it)

3 Tbsp

Beefless Better Than Bouillon

4

Garlic Cloves

1/2 tsp

Cumin

1

Pasilla Chili Pepper, dry

6

Guajillo Chili Peppers, dry

1/2

White Onion

3

peppercorns
Salt to taste

3

Bay Leaves
---
Instructions
Hibiscus Flower
Boil 6 cups of water and take about 3 cups of hot water to soak the hibiscus flower in a large bowl. If using jackfruit or other meat substitutes listed above, DO NOT SOAK.
Soak hibiscus in hot water and apple cider vinegar for a minimum of 15 minutes.
Jackfruit/Mushrooms
Place the dried chilies in a bowl. Boil 6 cups of water, take 2 cups of boiling hot water, and pour over the dried chilies. Soak for 15 minutes. Turn the boiling water off and save the rest of the water for the birria broth.
If using mushrooms, use a fork to shred them and saute in a pan with about 2 tbsp of oil, garlic/onion powder, and soy sauce/liquid aminos/tamari/salsa Maggi until golden brown. Do the same for jackfruit but avoid shredding until after it has been pan-fried. Once golden, use tongs to shred the jackfruit.
Once chili peppers have softened and turned red, add to a blender along with the bouillon, cloves of garlic, peppercorns, onion, and about 1 cup of water to soak the chilies.
Hibiscus should be ready to drain and rinse at this point. Rinse it until the water runs clear instead of red. Shred the hibiscus into smaller pieces to represent "shredded beef" with your hands. Add hibiscus flowers to the pot.
Strain your chili sauce using a fine mesh strainer (optional), add chili sauce back into the pot along with bay leaves, salt, jackfruit/hibiscus/mushrooms, and simmer for another about 10-15  minutes. The longer you simmer it, the better the flavors will get.
At this point taste your birria and add salt/pepper as needed.
Serve with Mexican rice, and beans, and enjoy!
Prep Time:

20

Cook Time:

20

Category:

Mexican

Method:

Stove

Cuisine:

Mexican
Keywords: vegan birria, vegan mexican recipes