Arroz integral translates to brown rice in English. Brown rice is a whole grain which means that it is less processed than white rice. White rice is more popular because it cooks faster and its typically softer in texture. In this recipe I give you all you need to know to cook the best brown rice every single time as well as making Mexican brown rice (arroz integral Mexicano) aka Spanish brown rice.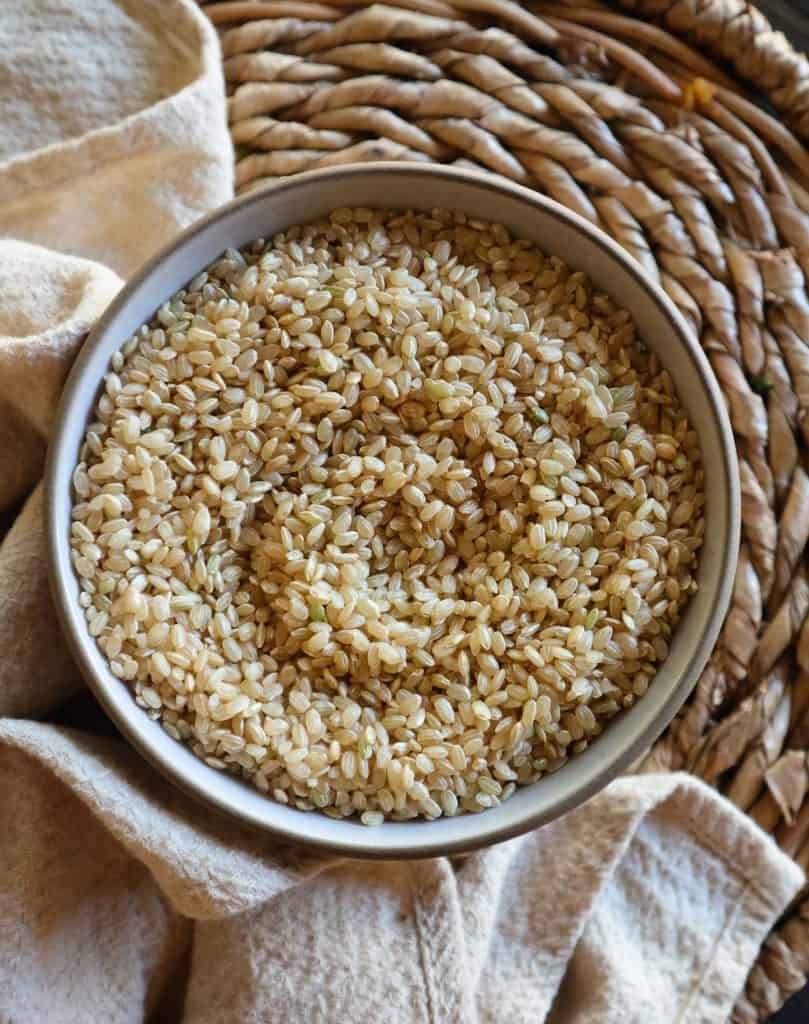 Is brown rice healthier?
Brown rice is considered healthier because it is more nutrient dense than white rice. Some of the benefits of brown rice include getting more fiber which can help reduce cardiovascular disease and it's also a good source of magnesium. Consuming more whole grains, like brown rice, will also improve your digestion and reduce the risk of constipation.
Cooking Brown Rice (Arroz Integral)
I personally love to cook brown rice on the stove. A lot of people are intimidated by it but cooking brown rice on the stove is actually easier than you think! My favorite way of making it is Mexican-style of course but let me give you a few more tips and tricks for cooking brown rice. Let me show you how to make basic brown rice first!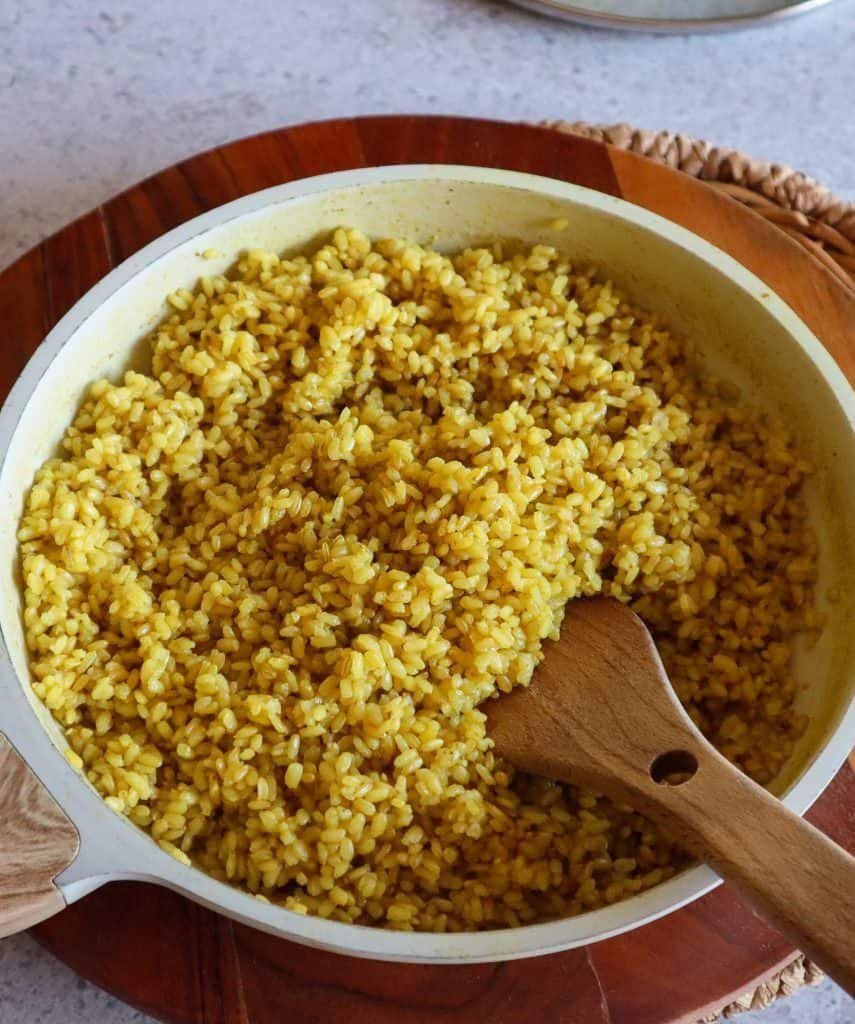 How to Cook Brown Rice
This easy process can work for any type of brown rice; long grain, short grain etc. Some of my favorites include Lundberg short grain brown rice and basmati brown rice. If you are using an instant variety please follow instructions on the package as the cooking time will differ.
Soak the rice (optional). If you want to shorten to cook time by about 15 minutes you can soak the rice in room temperature water overnight or for a few hours. Cook time will be between 25-35 minutes depending on how long it soaked for.
Rinse the rice. This step is super important so don't miss it! Rinsing the rice helps remove excess starch which will help the final texture. If not rinsed, the rice will become sticky and clumpy. Rinsing is key for a fluffy brown rice! Rinse until water becomes clear.
Water to rice ratio. Brown rice typically needs 2 cups of water for every cup of rice. When cooking Mexican-style rice it is usually 1 1/2 cups because the other 1/2 cup is replaced with the tomato sauce.
Now we cook the brown rice. Boil the water, reduce heat tow a low simmer and cook covered for 45 minutes if rice did not soak and 25 if you soaked it overnight. Once its done, take lid off to check for doneness. If rice is cooked, take off heat and leave lid on for another 5-10 minutes before servings.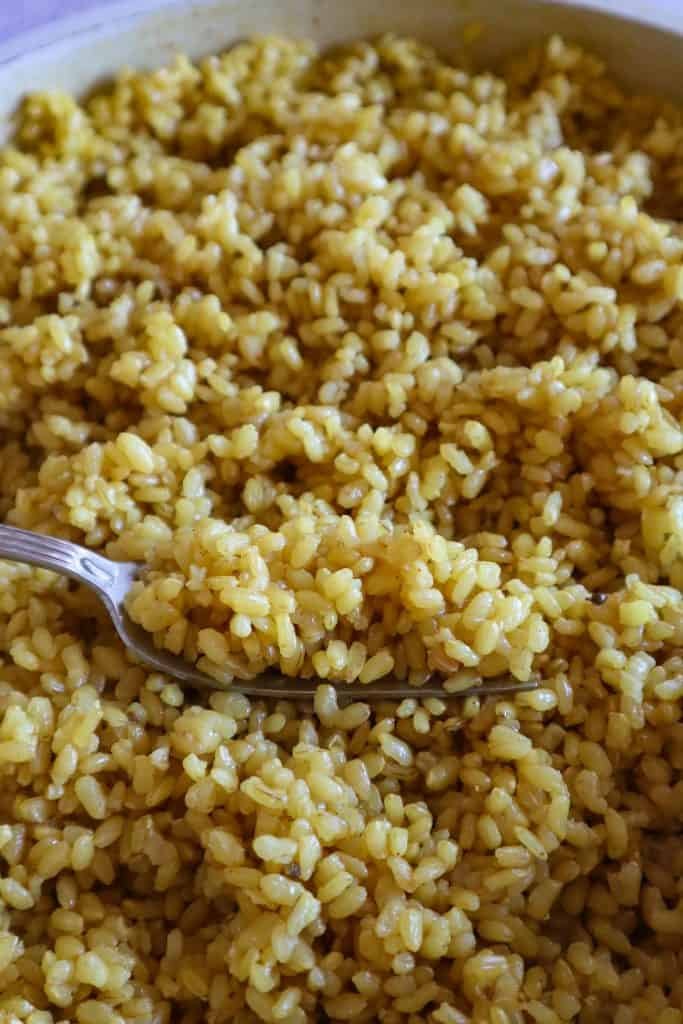 PRO TIPS:
Add 1/2 tablespoon of olive oil while its cooking to make it extra good! This helps with texture and taste.
Use vegetable broth instead of water and a bit of garlic for extra flavor!
Simple Mexican Rice recipe
My mom's Mexican also known as Spanish rice is one of the easiest follow and you probably already have most of these 6 main ingredients in your kitchen. This Arroz Integral Mexicano recipe is amazing and can make a great, vegan arroz con pollo.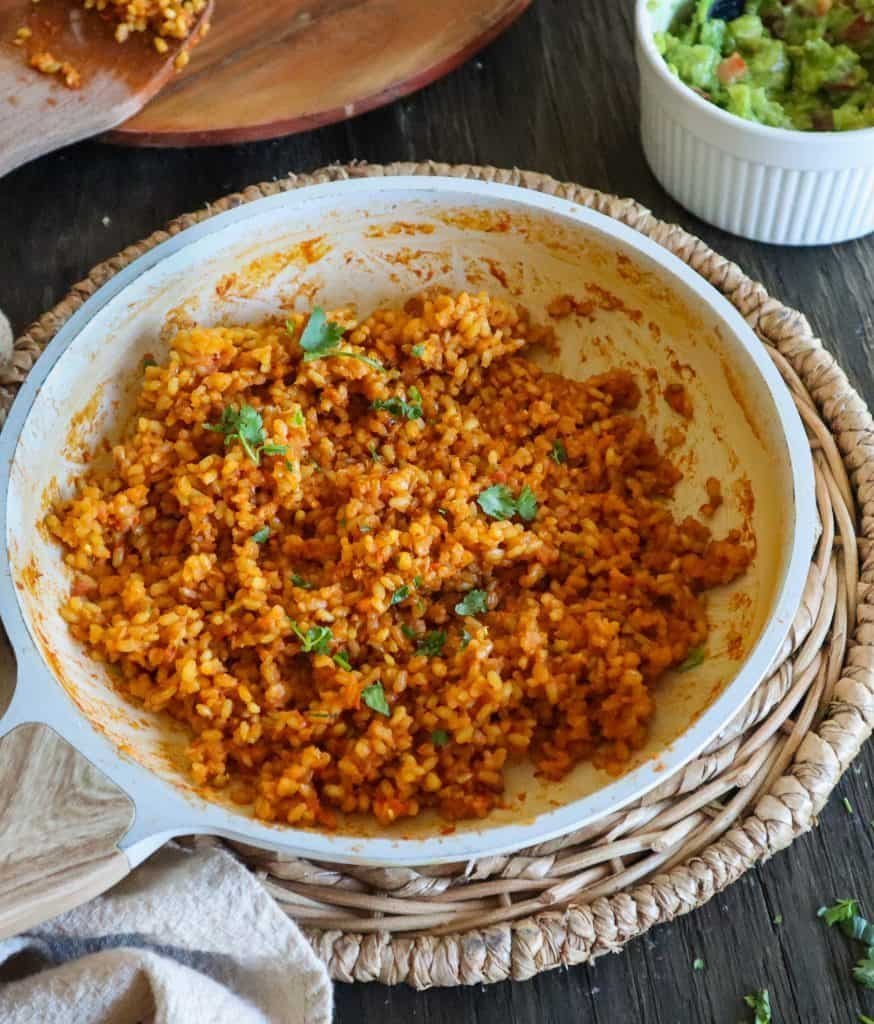 The main difference from cooking regular rice is the added flavor from the tomato/onion puree and using vegetable broth instead of water. It's also very unique because the rice gets toasted/fried in the pan with a little oil before adding the tomato puree and vegetable broth.
When toasting the rice in the pan you need to stir consistently to avoid it burning. It takes about 5-7 minutes to get nice and golden. You will also start to smell it, it smells amazing!
Quick and easy steps for making Mexican rice:
Blend tomato, onion, garlic and tomato paste.
Fry/toast rice with oil for 5-7 minutes until golden.
Add tomato puree and simmer for 2 minutes.
Add vegetable broth and simmer for 25-45 minutes until soft and fluffy.
This Mexican Brown Rice recipe pairs well with:
Print
Arroz Integral Mexicano (Mexican Brown Rice)
---
Author:

Total Time:

50

Yield:

4

1

x

Diet:

Vegan
Description
Simple and authentic Mexican rice recipe with a healthy twist! This Mexican rice is made with only 6 main ingredients and has all the flavor of the original Spanish rice. Includes tips on how to cook brown rice for the best texture.
---
1 cup

of brown rice

1/4 cup

white onion

1 cup

tomatoes, roughly chopped

1 tablespoon

tomato paste

2

cloves of garlic

1 1/2 cup

vegetable broth

1/2 tablespoon

canola oil
Salt to taste
---
Instructions
Rinse the rice and let it soak for an hour/overnight if possible. Soaking the rice helps it cook faster.
Add tomatoes, tomato paste, onion, and garlic to a blender and blend until smooth. Set aside.
Turn a skillet over medium heat. Once hot, add oil and brown rice. Toast the brown rice for 5-7 minutes until golden. Stir the consistency to prevent burning.
Add the tomato sauce and simmer for 2 minutes. Add the vegetable broth and once it starts to boil, lower the heat to a simmer and cover with the lid.
Simmer for about 25 minutes if soaked or 40 minutes if not soaked. Check for doneness, taste, and add salt as needed.
Serve with beans, tacos, in a burrito or burrito bowl, and enjoy!
Notes
* Rinse the brown rice until the water runs clear. Don't skip this step!
* The same recipe applies to white rice, except it doesn't need to be soaked and it cooks faster; cooking time is 15-20 minutes.
* Avocado oil or vegetable oil also works. You can omit the oil if you like, but it helps make some great rice.
Prep Time:

10

Cook Time:

40

Category:

Sides

Cuisine:

Mexican
Keywords: Brown rice, brown rice, perfect brown rice, Mexican rice, Spanish rice, Mexican brown rice, Mexican brown rice, Spanish brown rice, brown rice recipe