What's the one animal product that you feel like you could never give up?
For vegans; what is a food that you miss the most?
For me, its eggs! I was the biggest fan of eggs and they were the last to go from my diet. I was a huge fan of omelettes and would order them a lot at brunch. HOWEVER.. believe me when I tell you that this is better than ANY omelette I have ever tried before.
If you miss eggs/cannot give them up please try @eatjust egg. I don't have it often but when I do I love making this omelette. SAVE this recipe to make yourself a lovely, savory, off-the-heezy (do people still say that?) brunch this weekend!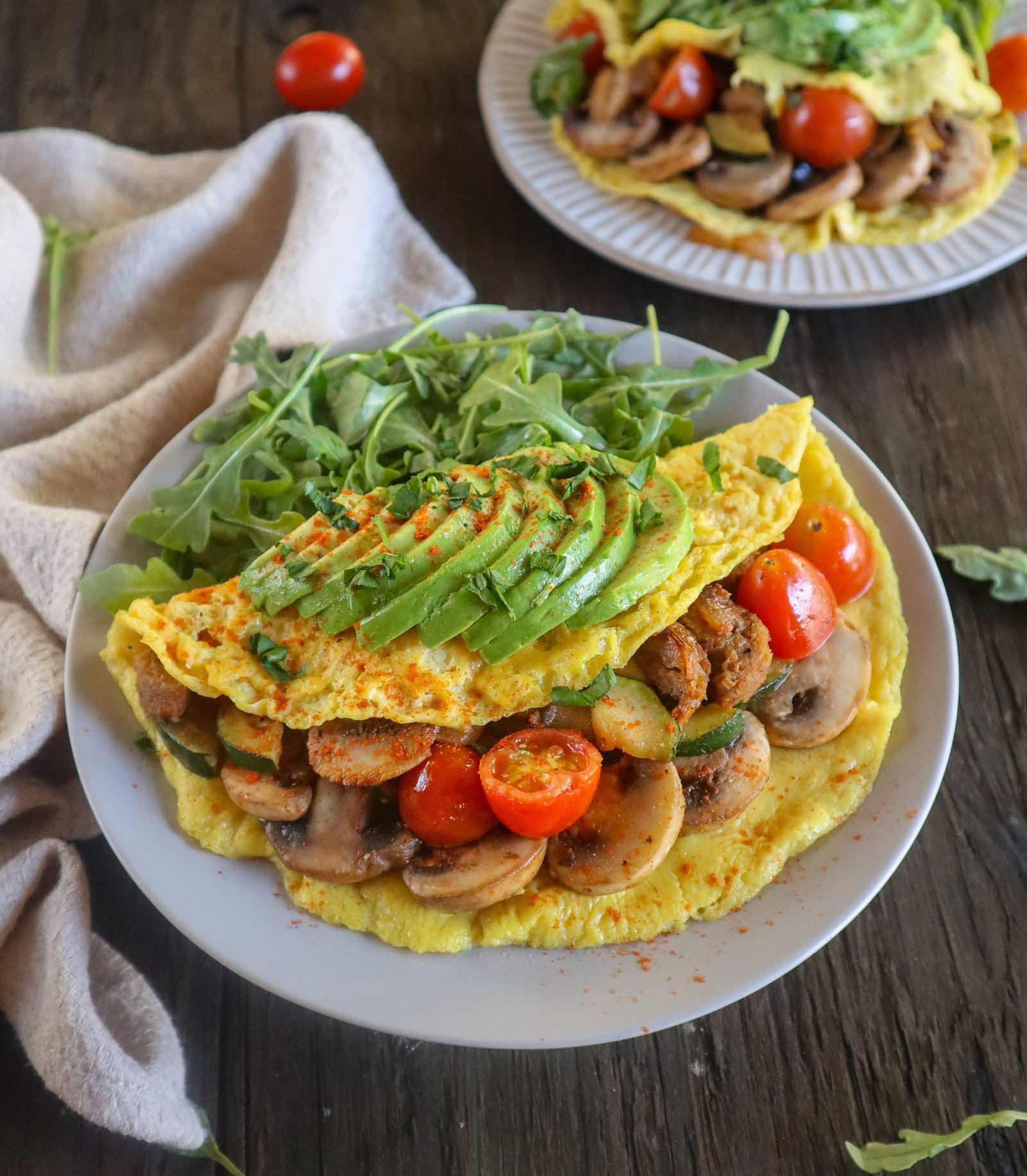 How to make a Vegan Omelette without Chickpea Flour:
The secret ingredient to making a vegan omelette without chickpea flour! You can now find this brand at most grocery stores such as Whole Foods, Lucky, Sprouts and many more. This post is not sponsored.
Want to try something that is different or a bit less processed? Check out
this super simple recipe
on how to make your own vegan eggs from chickpea flour.
These are really up to you! I recommend you pick your favorite vegetables but here are some I recommend that go well with omelettes:
Green onions, bell peppers, mushrooms, cherry tomatoes, zucchini, spinach, kale, jalapeños and shaved brussel sprouts.
Add extra oomf to your omelette by adding nutritional yeast, vegan cheese or a cheese sauce! I absolutely love Follow Your Heart vegan cheese as well as adding nutritional yeast.
Other condiments to consider adding: red pepper flakes, salsas, chili sauces such as tabasco and Tapatio, vegan sour cream and maybe even pesto!
How to avoid breaking your Vegan Omelette:
Avoid flipping it with a spatula because it most likely will break/rip.

Make sure to cover it with a lid the entire time it is cooking. This way it cooks thoroughly and you don't need to flip it.

Once it's cooked, take a large plate, flip it upside down on top of the pan and then flip the pan upside down while you hold the plate to transfer the omelette over. Ta-da!
Print
Vegan Omelette (without Chickpea flour)
---
Author:

Total Time:

25 minutes

Yield:

2

1

x
Description
Make this vegan omelette without chickpea flour for the closest egg-like omelette you will ever have. This recipe is great for a vegan brunch or breakfast for anyday of the week!
---
2/3

Just Egg Container

1 cup

of mushrooms

1/2 cup

cherry tomatoes

1/2

zucchini

1/2

onion

1/2 cup

of vegetable broth

1 teaspoon

garlic powder

1/2 teaspoon

cayenne pepper or chili powder (optional)

1

vegan sausage link (optional)
Salt and pepper to taste
Avocado, arugula, fresh herbs for garnish
---
Instructions
Dice the vegetables. Turn the skillet over medium heat and add a splash of vegetable broth.
Once hot, add the onion, vegan sausage and cook for 2-3 minutes. Add sprinkles of vegetable broth to deglaze and keep from drying out as needed.
Now add mushrooms, zucchini, 1/2 teaspoon garlic powder, salt, pepper, and chili powder. Cook for another 5 minutes or until the vegetables are cooked to your liking.
Add the cherry tomatoes 1 minute before turning off the stove. Set aside.
Turn a new skillet on to medium heat. Once hot, add a little oil.
In a bowl, mix Just Egg, 1/2 teaspoon garlic powder, 2 tablespoons vegetable broth, salt, and pepper.
Pour half of the egg mixture into the skillet and spread evenly. Cover the pan and cook for about 5 minutes over medium-low heat.
Remove the lid and check to see if it is cooked through. If so, take a plate and place it upside down on the pan and transfer it to prevent breakage. 
Add the vegetables on top of the egg and fold in. Add toppings/garnishes and enjoy!
Prep Time:

10

Cook Time:

15
Nutrition
Serving Size:

2 omelettes
Keywords: vegan omelette without chickpea flour, vegan omelette
Other Vegan Breakfast Recipes:
Chickpea Flour Frittata Muffins