These cheesy vegan birria tacos are a combination of a quesadilla and saucy taco all in one. The best part is you get to dip it in a savory and comforting broth! This is the ultimate vegan Mexican comfort food. Make it for a family party, dinner night or Cinco De Mayo.
Vegan Birria Tacos are the ultimate Mexican comfort food! Quesadilla and Birria had a baby and well I don't think I have to say much more than that. For those that don't know what birria is .. It is an exquisite savory dish, typically made with beef/goat and a very mild chili broth full of culture and tradition. It is served at most Mexican weddings, quinceanera and any large Mexican celebration.
Nowadays it's popular to combine quesadilla and birria tacos. Yes, I did make vegan birria tacos and YES it is way better than the non-vegan version. Why? Well you have to try it for yourself and let me know. It is the best vegan birria recipe you will get your hands on!
Here are the ingredients you will need to make these vegan quesabirria tacos:
Tips and Substitutes:
Cheese:
I highly recommend Follow your Heart mozzarella shreds or using
Miyoko's shredded pepper jack cheese
mixed with vegan
Whole Foods 365 shredded mozzarella
. However if you have a favorite vegan cheese brand, feel free to use it! I do not recommend using cheddar cheese or anything other than mozzarella, pepper jack or Monterey. As for
vegan cheese brands I don't recommend
to help save you the money and experience: Daiya and trader Joe's brands.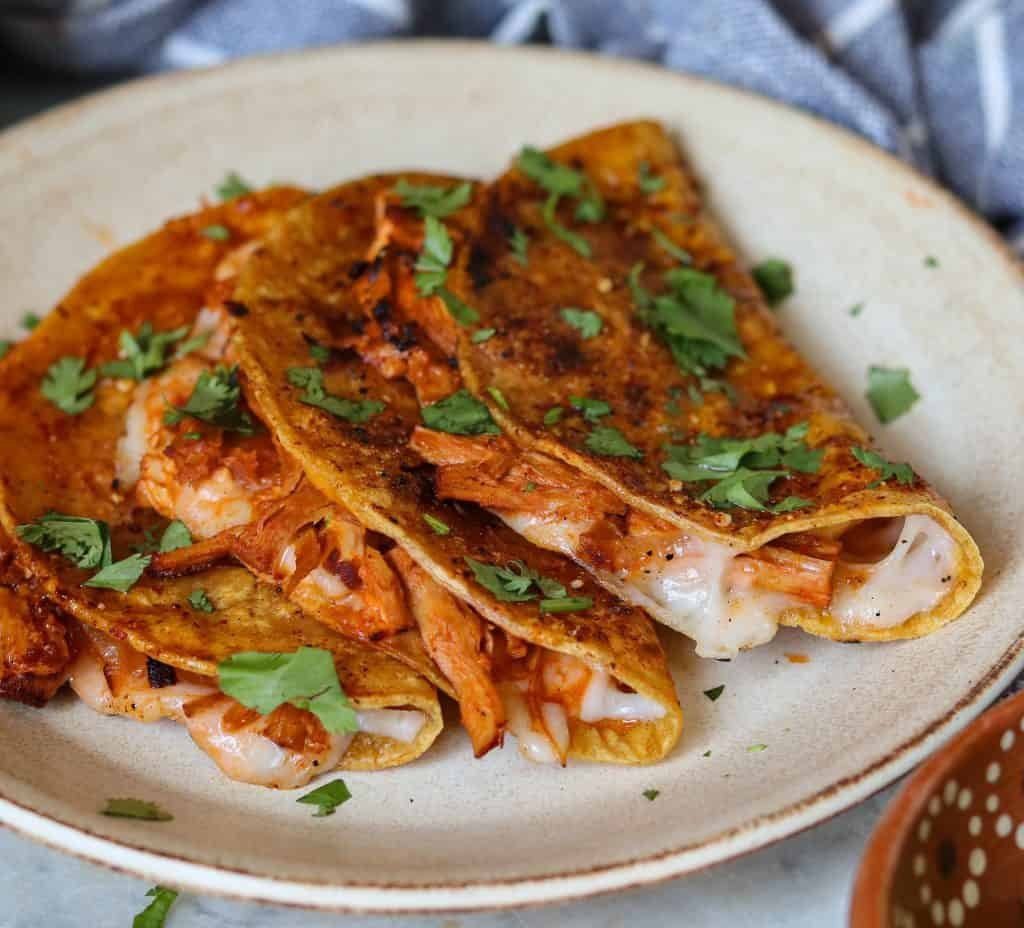 Meat Substitutes:
Hibiscus Flower/Flor de Jamaica
I know what some of your might be thinking..
hibiscus flower
?! Anna, are you crazy? No, well I may be a bit crazy in other ways but you have to trust me on this one! It is not tart one bit. Hibiscus flower is usually used for teas and sweets but when prepared correctly it can also be a meat substitute. Learn more about how to use hibiscus here.
The
apple cider vinegar reduces
the tanginess by 99%, it's science. The hibiscus flower is chewy just like beef but if you want a much tender texture I suggest you use
jackfruit
or
King Oyster Mushroom
(very close to meat texture too).
If using jackfruit or king oyster mushrooms skip steps 1-2 and avoid rinsing when on step 6.
King Oyster Mushroom
This mushrooms shreds very well and can replicate the texture of shredded meat. I typically find mine at local asian groceries or whole foods. They tend to be pricey but I've heard its easy to grow them at home! This would be an easier option as it requires less ingredients and less steps than using hibiscus flower.
Shredded Tofu
If you've never grated tofu, you're missing out! I love grating it to get a "shredded" meat texture. I have a recipe for it in my
Vegan Enchiladas recipe
. This is definitely my go-to meat alternative for those that say they don't like tofu, just to prove them wrong lol.
Seitan/Vegan Meats
Shredded seitan also makes for a great meat substitute. I recently tried Juicy Marbles filet mignon steaks and shredded them to make birria. This product is SO close to meat it was a bit scary for us but is a great alternative for those looking for something very close to beef.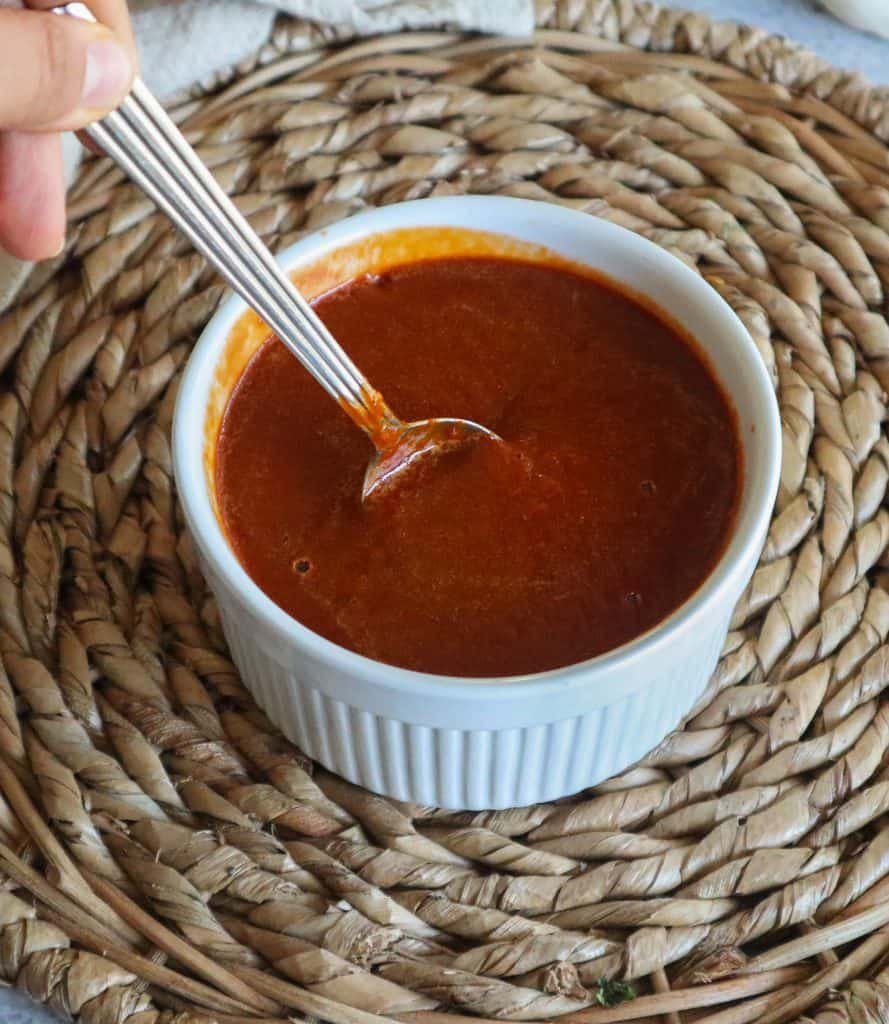 How to add flavor to Vegan Birria Tacos
Vegan bouillon
may be hard to find but if you have a Whole Foods near by make sure to get the vegan
no-beef Better than Bouillon
. I have also made it with the
no-chicken and vegetable Better than Bouillon
and it was also very tasty and not a big difference overall. If you don't like this option you can also use
vegetable broth
instead of water. It is less flavorful but still really good!
I would not opt out of adding the
carrots
here because they provide flavor and you get to add veggies to a delicious meal (yay!). I
highly recommend
to not use substitutes for anything else in the recipe especially the dried chilis. They are hard to find in typical American grocery stores but can easily be found in most Mexican stores or online.
If using king oyster mushrooms, shred like this: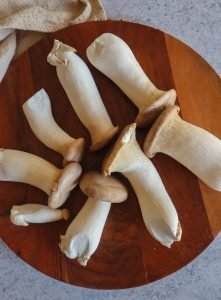 Other Mexican Recipes that you'll love:
Print
Vegan Birria Tacos
---
Author:

Total Time:

55

Yield:

10

–

1

2

1

x

Diet:

Vegan
Description
These cheesy vegan birria tacos are a combination of a quesadilla and saucy taco all in one. The best part is you get to dip it in a savory and comforting broth! This is the ultimate vegan mexican comfort food. Make it for a family party, dinner night or Cinco De Mayo.
---
10

–

12

Corn Tortillas

1 1/2 cup Hibiscus flower, dried OR Shredded King Oyster Mushroom (see above for more meat substitute options)

2 1/2 Tbsp Apple Cider Vinegar

3 Tbsp Beefless Better Than Bouillon

1/2 tsp

Cumin

1 Pasilla Chili Pepper, dry

5 Guajillo Chili Peppers, dry

2 Carrots, Medium (optional)
If using King Oyster Mushrooms:
1 tsp

Garlic Powder

2 tbsp

Tamari or Soy Sauce

1 tbsp

Avocado Oil (or any other neutral oil)
Chill Oil
1

Arbol Chili Pepper
---
Instructions
Add 10 cups of water to a large pot and bring to boil. Once boiling, reduce to a low simmer and take about 3 cups of hot water to soak the hibiscus flower in a large bowl

Soak hibiscus in hot water and apple cider vinegar for minimum of 15 minutes.

If using mushrooms, shred them and saute in a pan with garlic powder, oil and tamari or soy sauce until golden brown.

Add Bouillon to the simmering water in the pot along with whole cloves of garlic, dry chili peppers, cumin, onion and carrots. Simmer for 10-15 minutes or until chili peppers have softened.

Once chilis have softened, add chilis, garlic cloves, onion and about 1/2 cup broth to a blender and blend until extra smooth. At this point you can also take carrots out and chop them into smaller pieces.

Strain your chili sauce using a fine mesh strainer (optional), add chili sauce and carrots back into pot along with bay leaves and simmer for another 10-20 minutes. The longer you simmer it for, the better the flavors will get.

Hibiscus should be ready to drain and rinse at this point. Rinse it until water runs clear instead of red. With your hands, shred the hibiscus into smaller pieces to represent "shredded beef". Add hibiscus flowers to the pot.

Make sure hibiscus or mushrooms simmers with birria sauce for at least 15 minutes to absorb the flavor well. At this point taste your birria and add salt/pepper as needed.

While birria is simmering make your chili oil. Add all dry ingredients to blender and blend well until chili powder forms. Add to a small bowl and add hot water, let sit for 5 minutes and then mix in the oil.

Turn griddle (comal) on medium/high heat. Once it is hot enough, add your tortilla. Flip it after about 30 seconds and add cheese and some birria (hibiscus in light birria sauce) to the hot side. Fold it to create your quesadilla and then bush on some chili oil to each side. This helps it get crispy and get that golden/reddish color.

Repeat step 9 until all tortillas are turned into quesabirrias. Each side takes about 3-4 minutes to get crispy and for cheese to get melty! Once done serve with cilantro and dip in birria sauce for extra yum!
Prep Time:

15

Cook Time:

40

Category:

Mexican

Cuisine:

Mexican
Nutrition
Serving Size:

10-12 Quesabirrias
Keywords: mexican, vegan birria, vegan mexican food