This is the best vegan tamales recipe you'll ever try! Saucy jackfruit wrapped in an authentic corn dough. An authentic and flavorful recipe passed down by my grandmother for you to enjoy! These tamales are very popular during the holidays but make them for any celebration year-round.
What are Tamales?
Tamales are like little pockets of joy filled with saucy deliciousness! There are so many different types of tamales that originate in Mexico and Central America. There are sweet tamales, savory tamales and tamales that are made from corn masa, rice and flour.
I grew up eating tamales rojos (red tamales). These tamales are typically filled with pork and a savory red sauce that is not spicy. I made these 100% vegan by substituting the pork for jackfruit and the lard for olive oil/coconut oil. You may have already guessed it, but the flavor comes from the savory red sauce and lightly seasoned masa. Veganizing a recipe can be SO EASY! This recipe was handed down by my grandmother and my mom helped me veganize it so I hope you give it a try.
In many other parts of Mexico, the masa is much thicker and there is typically less filling. The masa to filling ratio is pretty even with these which makes them even more satisfying and delicious in my opinion!
These tamales are typically made for special occasions especially Christmas. Growing up I only really ate tamales during the holidays which made them even more special to us. I recommend making these with your significant other, friends or family. The art of making tamales is time consuming but also very therapeutic, fun and meant for sharing.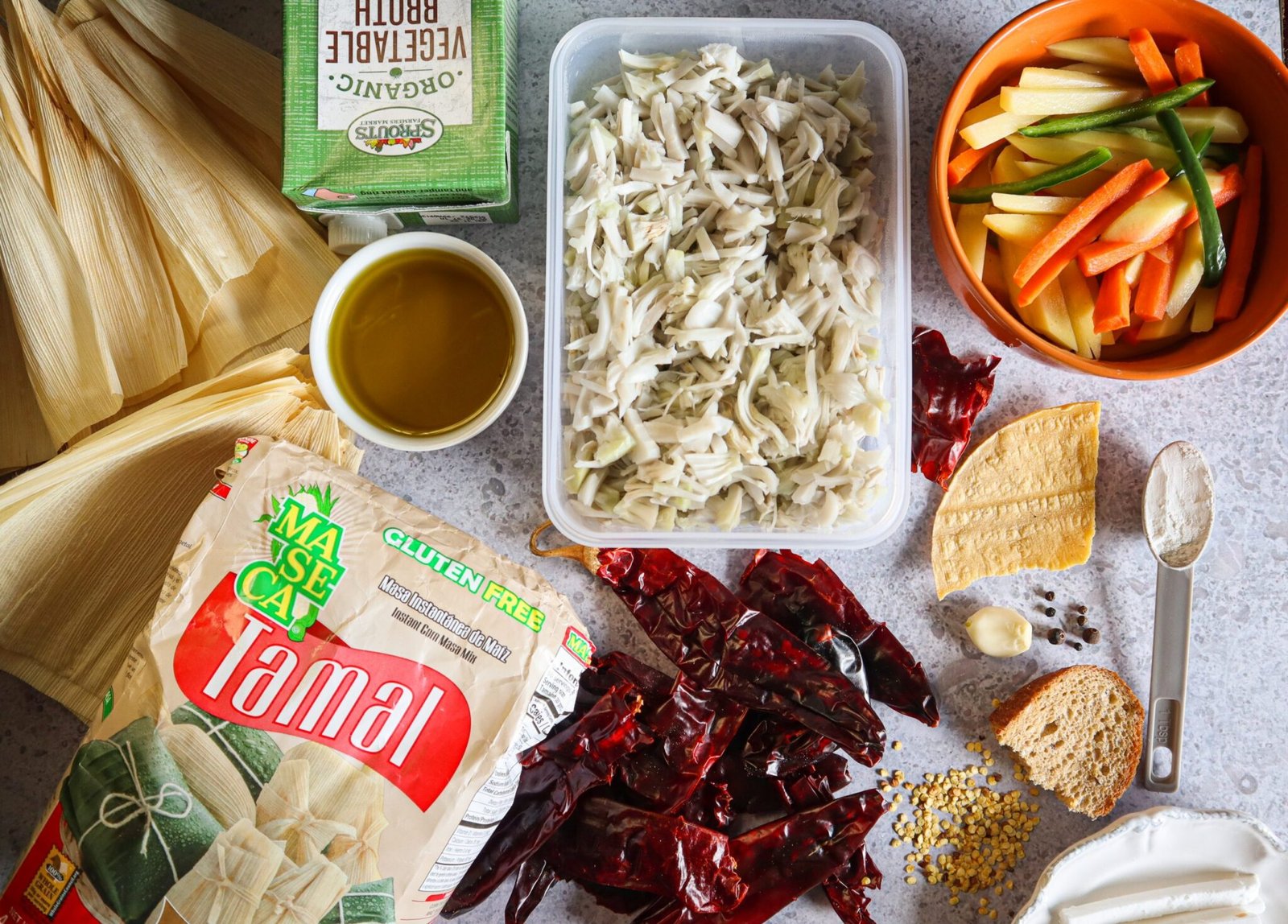 Substitutes & Tips for the best Vegan Tamales Recipe
I highly recommend using Maseca brand for the dough. This is the best and most authentic masa harina to use.
If using coconut oil make sure to use refined coconut oil to avoid getting a coconut taste in your tamales. I typically choose to use olive oil over coconut oil but that's just me. I know other love using coconut oil as well.
Shredded king oyster mushrooms is a wonderful substitute for jackfruit. Since mushrooms do shrink when cooking I recommend getting about 2 lbs of king oyster mushroom.
When toasting the chili peppers make sure it is no longer than 5 seconds on each side! They will get bitter and the sauce will not taste good.
Not a fan of red sauce with jackfruit? Make them tamales de rajas! Stuff with strips of carrot, jalapeño, vegan cheese and potato. SO GOOD!
This recipe make a huge batch of tamales so if you don't plan on making them for an entire family + more, make half a batch or less. These tamales freeze well for a few months and refrigerate for up to 5 days.
To reheat properly, please steam. When heated in the microwave they may dry out too much.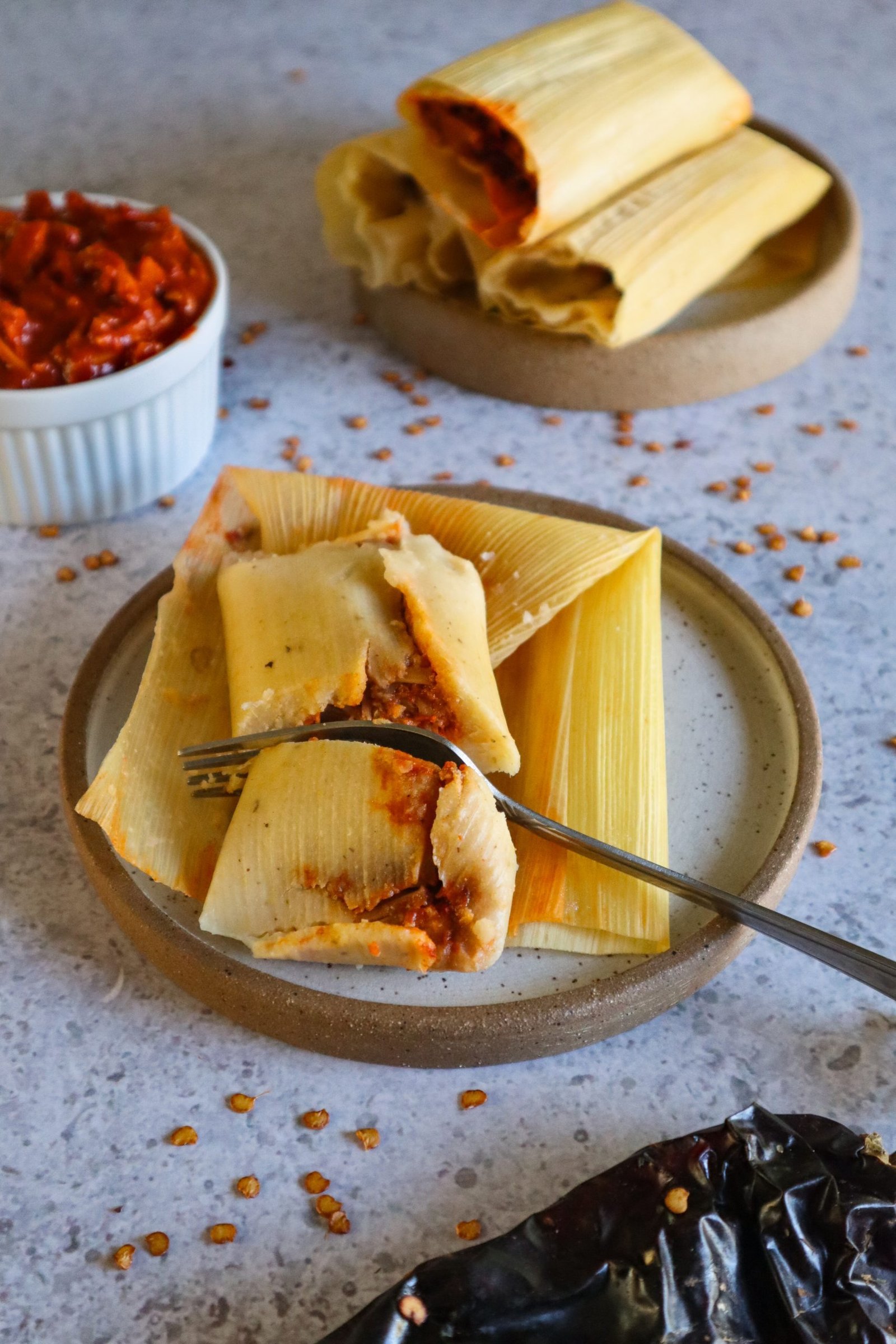 If you like this Vegan Tamales Recipe check out more recipes:
Print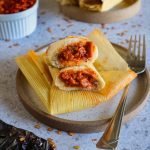 Vegan Tamales
---
Author:

Total Time:

2 hours

Diet:

Vegan
Description
This is the best vegan tamales recipe, an authentic and flavorful recipe passed down by my grandmother for you to enjoy! They are very popular during the holidays but make them for any celebration year-round. For video recipe click here.
---
18

Guajillo Chiles, dried

1/2

corn tortilla

1/2

slice of whole wheat bread

3

–

4

garlic cloves

3

small peppercorns

2

tericherry peppercorns

1 tablespoon

of guajillo chili seeds

2.5 cups

of water

2

–

3

tablespoons canola oil (or any neutral oil)

2

large cans of jackfruit

1 teaspoon

salt or to taste
Dough ingredients:
2.5 cup

coconut oil or olive oil

4.4

pounds of tamale Maseca

2 teaspoons

of baking powder

2 teaspoons

salt or to taste

48 oz

vegetable broth (

1.5

–

2

cartons)

60

–

80

corn husks
---
Instructions
Soak the horn shells in hot water for at least an hour. Place a plate on them to make sure they are all submerged in the water. I use my sink to do this.
Remove the stems and seeds from the dried guajillo peppers.
Turn a skillet over medium heat and add about 1 tablespoon of canola oil. Fry the tortilla, bread and garlic cloves until golden brown. Set aside in a large bowl.
Add more oil to the skillet and toast the dried guajillo chiles for 5 seconds on each side. As soon as they puff up and turn slightly red, flip them over and make sure you don't overcook or burn them. Place them in the large bowl with the bread, tortilla and garlic.
Lightly toast the peppercorns in the same way and add them to the large bowl with all the other ingredients. At this point, ALL the sauce ingredients should be in this large bowl.
Add enough hot water to cover all the ingredients in the bowl and let it soak for at least 2 hours OR add boiling water and soak for 20 minutes.
Add all the soaked ingredients to a blender along with 2.5 cups of water that were already soaking and mix well.
Strain the sauce and add to a skillet over medium heat. Heat to a boil and then lower to a simmer.
Add the shredded jackfruit to the sauce and stir until well incorporated. Taste and season as needed. Cook over low heat for 10-15 minutes.
Start making dough by melting coconut oil (or using olive oil) and then adding maseca flour, baking powder, vegetable broth, and salt. With your hands, mix everything until a dough forms. The dough should be sticky, not too wet but not dry. The amount of oil can vary – add it slowly and continue until you achieve a dough texture like above. You can also watch the video.
Take a corn husk and take about 1/4 cup of masa and spread it on the corn husk with a spoon.
Take 1-2 tablespoons of jackfruit filling and place it right in the middle of the dough.
Fold the corn husk on one side and then the other. Now take the part that sticks out in the middle and fold it inward. Place on a tray and repeat until all the dough and filling are used.
Steam the tamales for 1.5 hours, depending on how many at a time. My pot is small so I cook 15-20 at a time.
Once the corn husks can be easily peeled, they are done! Sometimes they may not seem ready. Test by squeezing the tamale and check if it is firm instead of soft. Once it cools, it will harden even more.
Let cool for at least 30 minutes, unwrap and enjoy.
Prep Time:

30

Cook Time:

90
Nutrition
Serving Size:

60-80 tamales