This is a round-up of my top vegan taco recipes for you to have all in one! Here you will find a list of my favorite vegan tacos with a description of each one. Click on the title to get to the full recipe. Scroll down and read to see which taco best fits your mood right now:
The Best Vegan Taco Recipes:
The top of all the vegan taco recipes on the blog! There are so many ways to substitute beef in the world of plant-based proteins. You can choose from seitan, soy curls, and much more. However, my favorite meat replacement continues to be mushrooms! To be more specific, portobello and king oyster mushrooms. Make this recipe with seitan, soy curls, or mushrooms, you'll be sure to love it either way.
Also, here's another one of my favorite vegan carne asada recipes by Jasmine from Sweet Simple Vegan! She makes it with soy curls so you get to learn the process of how to cook with them.
---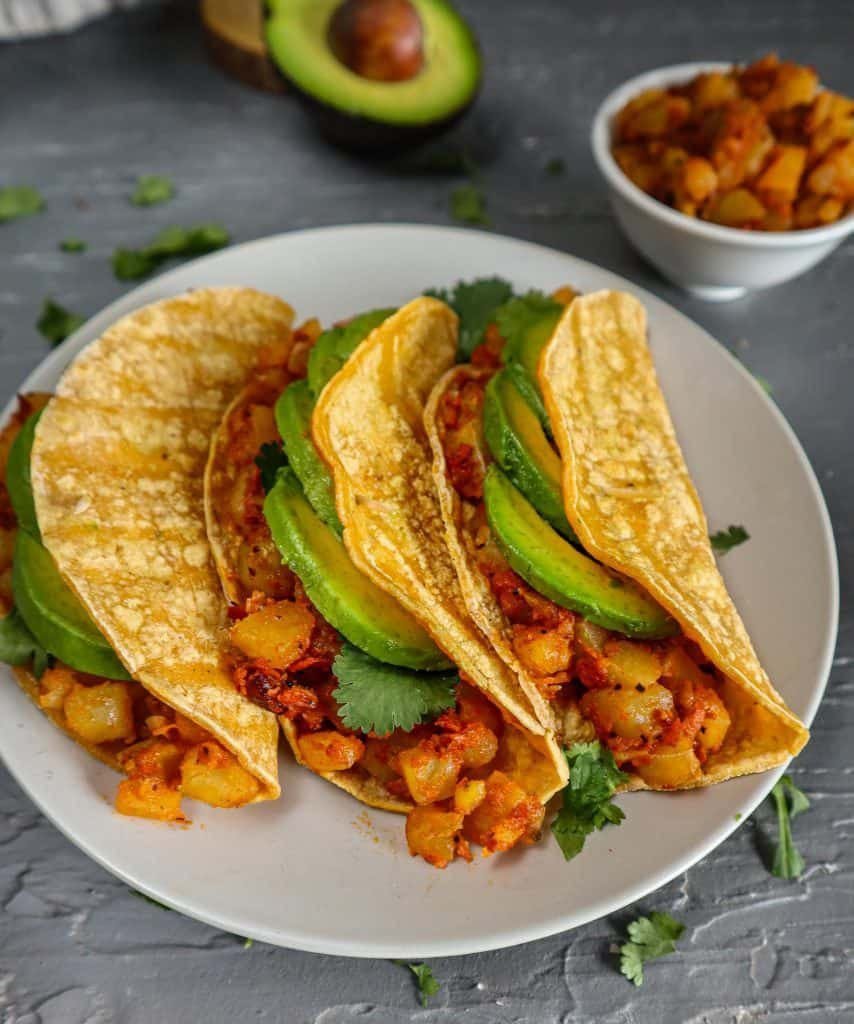 These savory Chorizo Potato Tacos are one of my favorite childhood meals and a staple in most Mexican homes. They are flavorful, hearty, so easy to make, and picky-eater-friendly! Save this recipe for a lazy weekday dinner or even for a weekend brunch. These tacos are sure to impress you and your entire family.
This savory potato filling also makes great burritos! I have made some delicious breakfast burritos with this filling avocado, and Just Egg.
---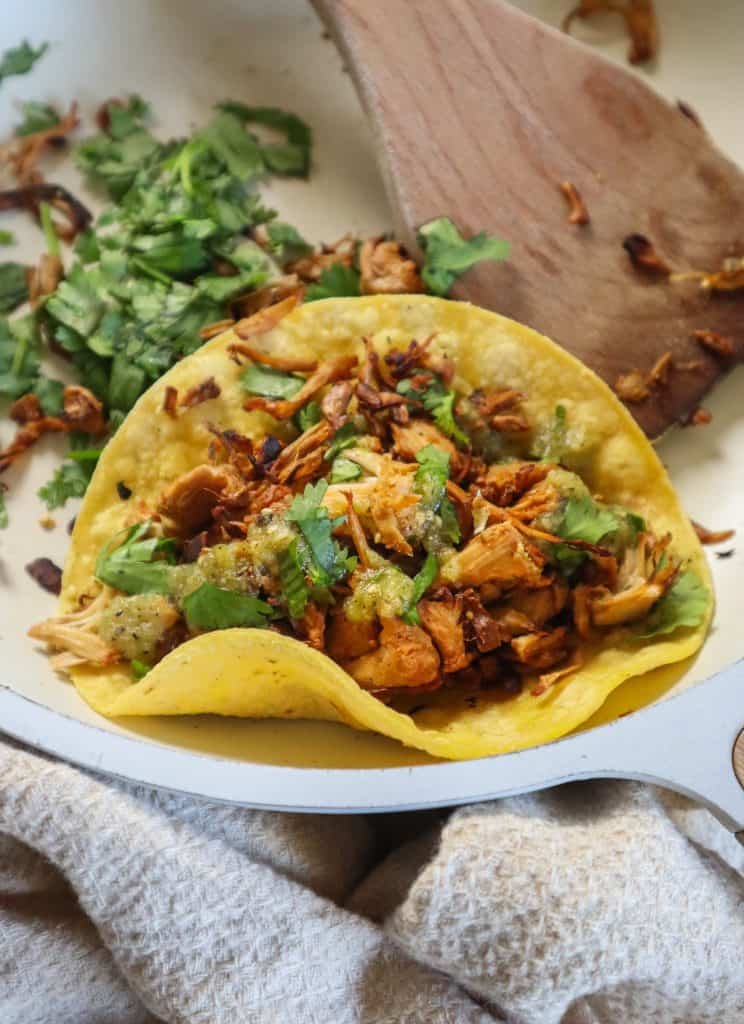 When I went vegan I refused to let go of my favorite foods, and so far I think I've "veganized" all the essentials. This carnitas recipe is one of my vegan Mexican recipes that I am most proud of. These crispy jackfruit carnitas are savory, tender, versatile and so easy to make! This is one of the easiest recipes on the blog because it only requires 7 ingredients. You'll want to make this recipe every single well for taco Tuesday.
This recipe pairs well with my Mexican Brown Rice recipe! Give it a try for a full authentic Mexican dinner.
---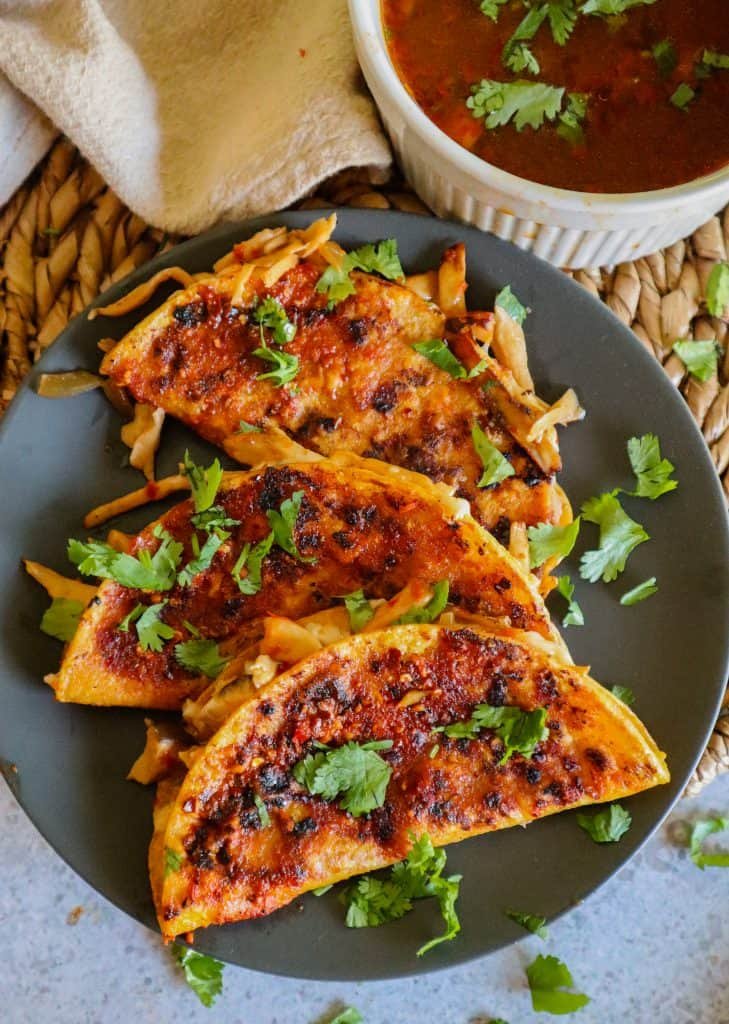 It is the ultimate Mexican comfort food! Quesadilla and Birria had a baby and well I don't think I have to say much more than that. The vegan beef substitutes will blow your mind. Dip your quesabirria taco in the savory barrio broth and forget that it's 100% plant-based.
This amazing new combination originated in Tijuana, Mexico but got super popular in the bay area with taco trucks.
---
Flautas are crispy on the outside and soft on the inside. They are usually filled with savory meat/chicken/potatoes but I made mine with tofu. I know what you're thinking… but wait a minute! This tofu filling will have meat eaters questioning if it's even vegan. This is the best vegan flauta recipe you will ever try! The tofu filling is very similar to the texture and flavor of meat. I have tested this recipe over 5 times and I now give you the best damn tofu filling you will ever have!
---
For the "ground beef taco" lovers: East Lentil Tacos
When my husband and I first tried these vegan lentil tacos, we were mind blown! This lentil taco meat is such a great alternative to ground beef for those that are looking for a great Meatless Monday recipe or just trying to eat more plant-based.
---
Okay so tinga is more for tostadas but I personally love eating it in taco form as well. I made a vegan version using jackfruit and I'm super excited to share it with you all! It used to be one of my favorite dishes because of how much flavor it has. Fun fact: the flavor comes from the seasonings, spices, chipotle peppers, and tomatoes NOT the chicken. I was so happy when I found out I could veganize it!
---
I hope you loved these vegan taco recipes! Follow and subscribe for more delicious + vegan recipes!